Hyundai introduces high-performance Tier 4 Final wheeled excavators at Bauma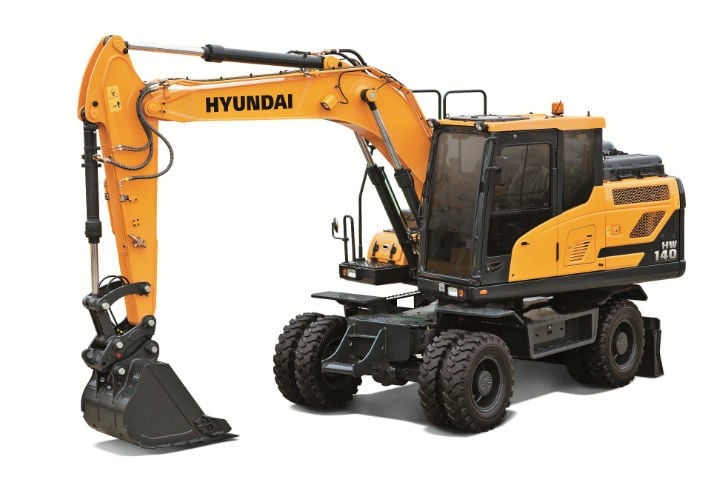 Hyundai Construction Equipment Americas has announced that the two wheeled excavators, the 14-metric-ton HW140 and 21-metric-ton HW210, on display at the Bauma 2016, will soon be available in North America.
These wheeled excavators, which can be used in a wide range of on-road and off-road applications, are the first Hyundai wheeled models to be Tier 4–compliant, and both deliver improved performance, increased fuel efficiency, an enhanced cab and added safety features.
Both the HW140 and HW210 are fitted with the high-performance, eco-friendly six-cylinder Cummins QSB6.7 engine. In the HW140, the engine is rated at 148 net hp (111 kW). In the HW210, the engine is rated 183 net hp (137 kW).
The HW140 has an operating weight of 30,600 pounds (13,880 kg) and is up to 15 percent more fuel efficient in truck loading and levelling compared with the Hyundai 9 series. The HW210 has an operating weight of 46,740 pounds (21,200 kg) and delivers up to 20 percent more fuel efficiency vs. the 9 series.
The HW series' three-stage power mode ensures optimum performance for working with heavy or light loads. These new wheeled models feature IPC (Intelligent Power Control) computer-aided power optimization based on load demand, and Eco Breaker mode for selectable pump flow and improved fuel consumption when working with Hyundai hydraulic breakers and many other attachments.
"The features on the new HW series go far beyond Tier 4 compliance," said Corey Rogers, marketing manager, Hyundai Construction Equipment Americas. "These new machines incorporate a more comfortable operating environment, additional reinforcement to the frame to ensure durability through the toughest operations, and safety features that are unique to Hyundai."
Standard 8-inch touchscreen monitor
Like Hyundai's HX series crawler excavators, the HW series models come with a standard 8-inch colour touchscreen monitor that provides visibility to virtually all systems, including the optional Hyundai-exclusive AAVM (All-around View Monitoring) system, which provides a 360-degree surround virtual operating view and the IMOD (Intelligent Moving Object Detection) system that senses and warns the operators when people or objects move within 16.5 feet (5 m) of the machine.
The entire cab on these new wheeled excavators is built for low noise and low vibration and incorporates ergonomic details that provide greater comfort and safety for operators. Features include Bluetooth audio system and Miracast wireless functionality for viewing a mobile device screen on the monitor.
The electronic fan clutch further reduces noise during operation by precisely controlling rpm, depending on the hydraulic oil and coolant temperature during operation, which also minimizes fuel consumption and reduces the required warm-up time for the hydraulic oil.
Enhanced reliability features on the HX series include reinforced longer-life pins and bushings coupled with wear-resistant polymer shims and newly designed cab shock mounts with dual shock absorption for reduced vibration and noise and improved operator comfort.
Related Articles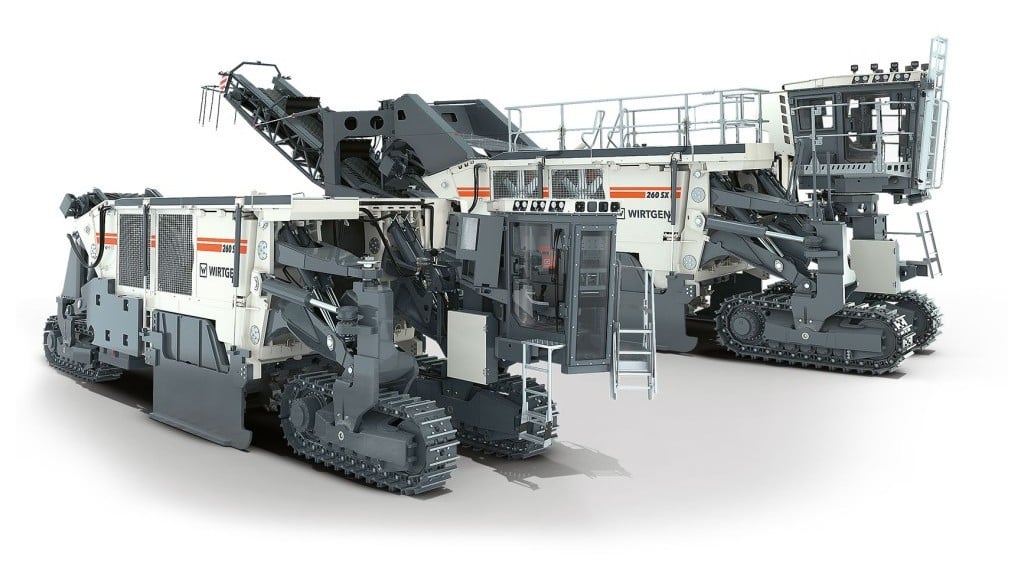 Wirtgen's cross application miner can cut rock above buried infrastructure and near buildings