New Perkins Syncro 2.8- and 3.6-litre engines launched at Bauma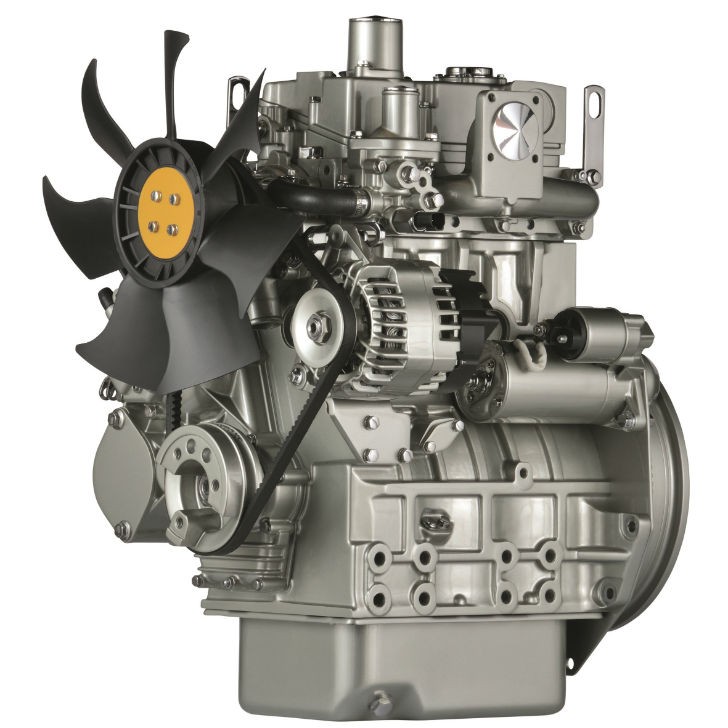 Perkins has launched a new family of 4 cylinder, 2.8- and 3.6-litre diesel engines delivering 45-100 kW (60-134 hp) at Bauma 2016.
The Perkins Syncro range of common rail engines will meet multiple global emissions standards including EU Stage V and U.S EPA Tier 4 Final.
Engineered to integrate perfectly into more than 80 different machine models, the new 2.8- and 3.6-litre engines deliver the performance, value and reliability our customers expect to help them access new markets and support their business growth.
The high power and torque density will give Original Equipment Manufacturers (OEMs) the opportunity to move to smaller, more compact engines. The great fuel consumption, fast response and electronic integration they need to differentiate their machines is achieved through an increase in power density of 22 percent when downsizing.
With up to an 8 percent improvement in fuel economy during machine use, the 3.6-litre offers powers up to 100 kW (134 hp) with up to 500 Nm of torque, while the 2.8-litre turbo aftercooled variant delivers a maximum of 55 kW (74 hp) with torque of up to 325 Nm.
The Perkins Syncro range benefits from a suite of technologies including a common rail fuel system, electronic control, advanced air systems and aftertreatment configurations. A 90 percent commonality in the customer interfaces between the 2.8- and 3.6-litre engines gives OEMs the freedom to determine machine platform strategies that suit their businesses and markets.
"The recent advances in fuel systems, control systems, predictive engineering and aftertreatment ensures our new 2.8- and 3.6-litre engines are the right solution for off-highway machines like wheeled loaders, tractors, telehandlers and excavators," said new product manager, Allister Dennis. "We've now started work on this family of engines to give us and our customers plenty of development and field validation time before Stage V introduction."
The engine's modular design ensures the 2.8- and 3.6-litre models ease of integration into existing – and future – generations of machine.
"Stage V is an important area of focus for Perkins," said product concept marketing manager, Oliver Lythgoe, "and part of an increasingly complex range of emission standards across the world. OEMs want to sell machines in multiple regions to support business stability and growth, but the costs of designing a different machine for each region is unsustainable. Our range of 2.8- and 3.6-litre engines have been designed as a modular product, so versions of the engine for different emissions standards and fuel specifications can be used with the same installation and, critically, the same engine performance and machine integration."
Manufacturing will start on a proven production line in Peterborough, U.K., and Perkins is developing the capacity to manufacture the Perkins Syncro range in facilities in the Americas and in Asia. This multi-region production capability will provide OEMs short, consistent lead times and the business stability they value.
As many machines in this power band enter the rental sector, the need for good value, compact and reliable engines have been among the project's primary requirements. A number of key performance features have been included as Oliver explains. "High power and torque and fast response are key enablers for engine downsizing, and can help OEMs deliver machines that are easy to operate. Other features allow us to achieve significant fuel savings in the areas of the power curve where real machines spend most operating time."
The range has flexible aftertreatment options for both displacements, with an array of engine and off-engine mounted options for optimized packaging in all machines. "Our aftertreatment system has seen a 40 percent reduction in package size, as it benefits from the latest technologies and design principals", said Allister. "We've leveraged the extensive diesel particulate filter (DPF) and selective catalytic reduction (SCR) system experience gained over the last five years and believe a compact two stage system will provide our customers with the most flexible package solution for all emissions standards, plus common installation and manufacturing benefits."