Volvo Penta launches a new 16-litre engine for mobile versatile applications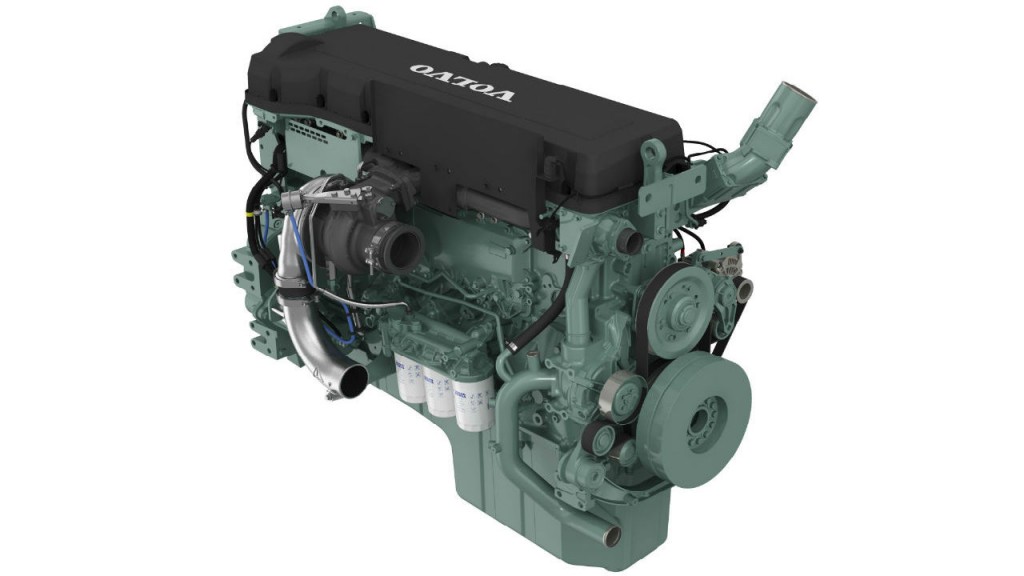 The TAD1643VE-B offers a raft of benefits including improved fuel consumption, increased torque and a new turbo-charger. Now suitable for mobile, versatile applications, the latest model is the best engine in its emissions class.
Volvo Penta's new 16-litre diesel engine has been developed in answer to customer requirements for a reliable, compact and cost-effective off-road industrial powerhouse. OEMs and end users expressed their desire to find an alternative for bigger engines (19 to 20 L engines) which suits versatile, mobile applications, where engine dimensions, weight and limited space are concerns.
Naval Singh, Volvo Penta's global segment specialist in mining and construction, says: "This new product is a perfect example of the close co-operation between customer and manufacturer. The idea and push came from our own existing customers.
"After listening to them, we did some homework and found that there is huge possibility with our technology and our offering, which can replace the current range of bigger volume engines – from 19-litre to 20-litre – used in the versatile application market today.
"We all know how far technology has moved since those old installations were first introduced in the market, so we were able to use our knowledge to create something compact, powerful and reliable."
The latest 565kW 16-litre engine is based on the TAD1643VE, but with modified features to enable it to be installed in a wider range of machines.
Like its predecessor, the TAD1643VE-B is powerful, reliable and easy to install. The new version has been tested in challenging environmental and operating conditions – for example, in underground mining and agricultural applications.
The TAD1643VE-B includes a range of features:
New water-cooled turbo-charger, making the engine more dynamic and suitable for mobile applications.
New fuel injectors and more efficient combustion, for improved fuel consumption and lower operating costs.
Engine brake – Volvo Group patented technology offering 250 kW performance and 10x higher engine brake capacity.
Increased torque and torque curve: due to the turbo-charger, extended torque curve allows for better performance at a wider range of rpm, making it more powerful, particularly at the lower end of rpm.
Electronically controlled wastegate, allowing for mobile, high altitude and stationary applications.
Emission reduction system without the need for exhaust gas recirculation (EGR).
Modern engine control unit (ECU) and same electrical interface as the latest Stage IV/Tier 4 Final engine, to enable ease of installation.
Upgraded engine management system (EMS 2.3).
Rated power of 565 kW at 1,900 rpm: highest output per litre of displacement, making it the best 16-litre engine in its class.
Apart from other optional items, it includes heavy-duty cooling packages, retarder thermostat housing, and a rear power take-off.
Global emissions standards
The new model is compliant with China NS III emissions regulations for non-road mobile machinery (NRMM) and the U.S. Environmental Protection Agency's Tier 2 Power Band E (for stationary emergency generators). The latter is applicable mainly to applications which are in use if a main engine cannot be used. This is equivalent to EU Stage II, regulation 96.
Singh says: "To keep the commonality of parts in customers' installations, we followed the same engine footprint as the previous model as far as possible. For example, this new 16-litre TAD1643VE-B shares common electrical and physical interfaces with Stage IIIA, Stage IV and Tier 4 Final engines. The power and reliability of new D16 engine gives us flexibility to enter into different applications.
"We have seen substantial fuel savings during a long field trial period. Also, service intervals are longer, which means less downtime and more productive time available with machines.
"In short, this new D16 will be great for end users' and OEMs' machines, and will give them an edge in the market."
He adds: "For industries such as mining, where machines are operating underground in demanding environments and operating conditions, productivity and reliability are key success factors. If it works in underground mining, it will work everywhere. Mining is one of the toughest applications."
The latest version of Volvo Penta's portable diagnostic tool – VODIA 5.2 – is available to support the TAD1643VE-B. VODIA is an aftermarket troubleshooting application for PC platforms which enables customers to quickly assess any issues to be addressed for repair and maintenance. Quick and easy diagnostic assessments also facilitates less downtime.
Volvo Penta will exhibit at Bauma from April 11th – 17th and can be found at Booth C4.327.