Atlas Copco showcases large asphalt rollers at World of Asphalt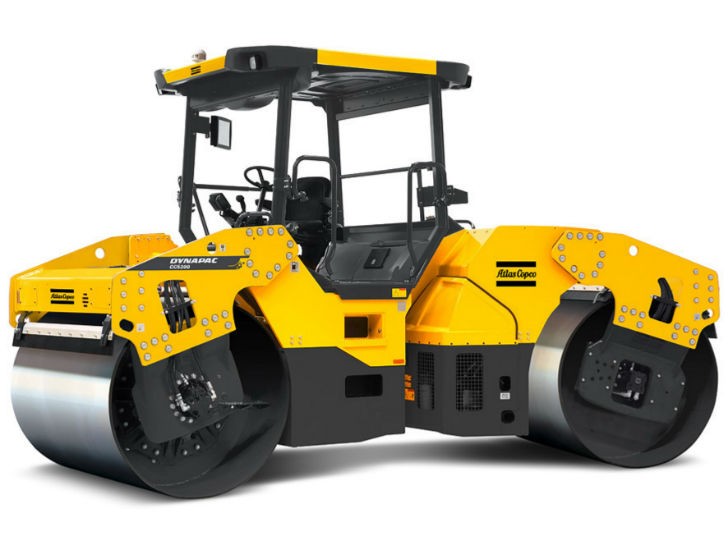 Atlas Copco's CC4200, CC5200 and CC6200 articulated tandem rollers minimize downtime and enhance productivity due to their simple maintenance and easily accessible parts.
Atlas Copco is exhibiting the CC5200 March 22-24 at booth 2828 during World of Asphalt in Nashville, Tennessee.
The Dynapac CC4200, CC5200 and CC6200 feature Tier 4 Interim engines and are available with Atlas Copco's optional ECO Mode system. ECO Mode is an rpm-management system that delivers to the rollers only the amount of power that is necessary to operate at any given time. This innovative system can reduce fuel consumption by as much as 20 percent.
Atlas Copco designed the CC rollers with service points that are fast and easy to access. This includes positioning the engine on the rear module and incorporating large, easy-to-open engine hoods. Servicing information displays directly on the driver's LCD and also indicates what servicing needs to be completed. All rollers feature a lubrication-free steering hitch and steering cylinder.
The rollers also feature a corrosion-free water tank and sprinkler tubes, in combination with easily accessible filters for enhanced reliability and easy maintenance. Contractors can replace hydraulic hoses in individual segments, saving hassle and costs associated with replacing full lengths of the hoses.
The rollers enhance productivity by maximizing operator visibility and comfort. They feature a sideways-sliding seat and steering module that also rotate with the operator, which helps improve visibility for optimal control and compaction. And since the engine is located at the back of the roller there is less heat and noise affecting the operator. And the CC4200 is available with a Combi module placed at the rear of the units and offset steering to further improve top layer texture.
The Atlas Copco CC4200, CC5200 and CC6200 are built with parts similar to other Atlas Copco equipment. This means less inventory for dealers and provides parts that are readily available for fast turnaround times and less downtime.
Company info
Related products