Terex Minerals Processing Systems launches new modular MC380X cone plant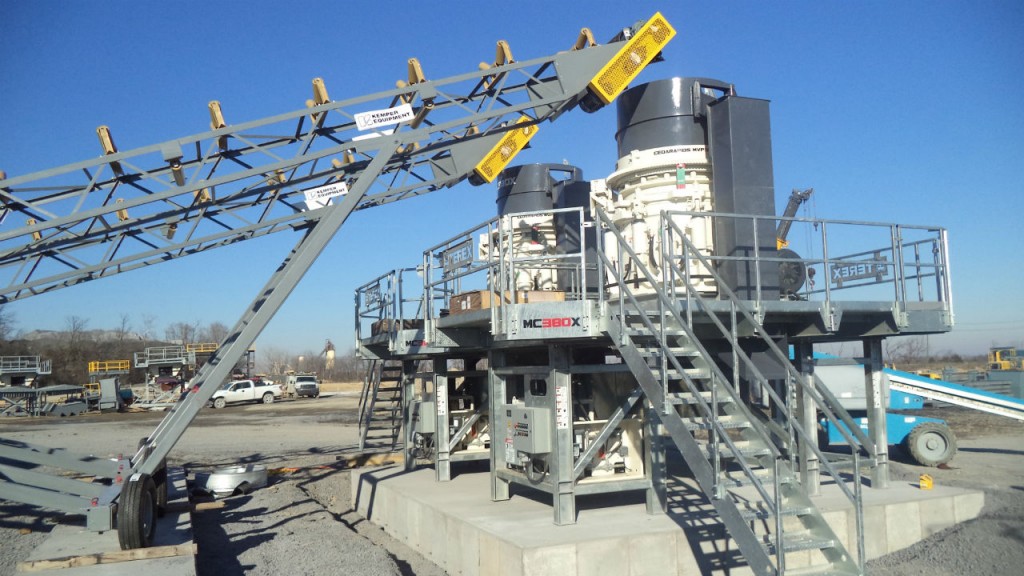 As part of its continuing product development strategy for the modular product line, Terex Minerals Processing has launch the MC380X Modular Cone Plant for utilization by aggregate and mining customers worldwide.
The NEW MC380X cone module features the Terex Cedarapids high performance MVP380X cone crusher. The MC380X boasts numerous features that increase the machine's productivity and ease of use.
Major new enhancements include high speed clearing of jammed material; quick crusher separation capability for faster manganese changes; and user friendly computer controls enclosed in a robust weather-protected control panel. Other key features of the MC380X include an extra-heavy duty I-beam frame, galvanized steel structure including walkways, stairs and guard rails as standard. The module structure and all its components are CE Compliant.
Modular structure
The modular structure bolts together on-site boasting quick setup times using basic tools. Pre-wired with a plug and play design the Terex MPS modules require minimum on-site wiring. The flexible design of the module enable permits for two locations for the discharge conveyor for easy transport and site setup.
About the MVP380 cone
Terex Cedarapids renowned MVP380X cone with patented Rollercone design provides high efficiency crushing from a single drive electric motor 300 hp (225kW). The cone also have an adjustable motor mount slide-base tensioning system with V-belt drive, drive guard, V-belt motor sheave, hub and key. Unique to Terex MPS modular plants are the fact that the hydraulic and lube skids are both positioned in the modular structure to protect them and are part of the pre-wired setup.
Optional equipment
Optional equipment includes a motor starter kit to run off-plant cone feed conveyor, product discharge conveyor and feeder, easy upgrade overflow chute and full length skid base.
Global Modular Product Manager, Terex MPS, Mark Crooks said, "We are very proud to add the high performance MC380X cone module to our expanding CR modular product line, further increasing our plant building stations, improving our application capabilities between 150 – 450 mtph and in particular, showcasing the innovative design and modular plant controls created by our experienced engineering team"
Company info
Related products