Ram 3500, 4500 and 5500 Chassis Cabs
New features provide 2016 lineup with outstanding capability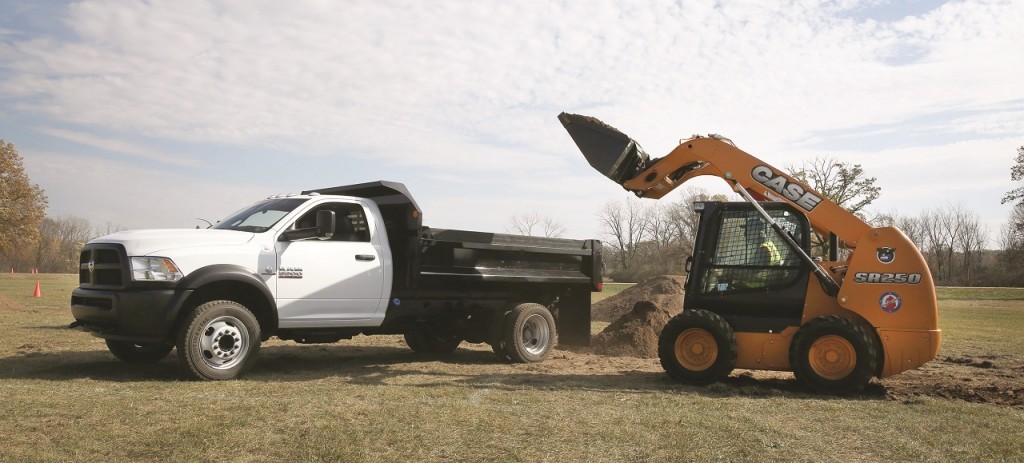 Ram Chassis Cabs are designed for extreme daily work as evidenced by their Gross Combined Weight Rating, towing capacity and rear-frame steel strength.
Powertrain
The power to handle these heavy loads is provided by either the standard 6.4-litre HEMI V8 gasoline engine or one of two Cummins diesel engines.
The HEMI V8 has been engineered for a different duty cycle than the one in Ram 2500 and 3500 trucks. This 16-valve engine is rated at 410 hp at 5,600 rpm (370 hp at 4,600 rpm in models over 10,000 pounds GVWR) and a peak torque rating of 429 lb-ft at 4,000 rpm. It features Fuel Saver cylinder deactivation under normal driving conditions with the six-speed 66RFE automatic transmission and during PTO mode with the AISIN AS66RC automatic transmission. The AISIN transmission provides segment-exclusive, gasoline engine left- or right-side PTO capability.
Ram also offers two variations of the 6.7-litre Cummins diesel engine.
The first features 320 hp at 2,800 rpm and 650 lb.-ft. of torque at 1,400 rpm. The engine is paired with Ram's six-speed manual transmission, which features a wear-compensating clutch for consistent performance and a dual-trunion shift tower to accommodate a compact shift pattern.
The second delivers 325 hp at 2,400 rpm and generates torque of 750 lb.-ft. at 1,500 rpm. It is paired with an AISIN six-speed automatic transmission, the AS69RC, designed for high engine ratings. It also offers a left- and right-side PTO option and allows for a split-shaft PTO configuration. Dump beds, aerial buckets, cranes and onboard compressor/generators are typical PTO-based upfits.
The Cummins diesel engine uses a large exhaust-gas recirculation cooler, which complements the selective catalytic reduction (SCR) system.

Suspension
Front suspension springs handle heavier loads while maintaining front ride height and improving overall roll stiffness. Greater roll stiffness, also known as body roll, is an important characteristic in taller vehicles, especially trucks with heavy payloads.
A five-link front suspension on Class 4 and 5 Ram 4500 and 5500 Chassis Cab trucks ensures excellent ride and handling for a higher GVWR and for use with heavy front loads, including snow plows.
The Ram 3500 Chassis Cab model features a three-link front suspension, which provides greater load-carrying capability and best-in-class towing.
The Hotchkiss rear leaf spring suspension not only provides a minimum of zero degrees rake angle at maximum load, it also maintains objectives for ride and handling.
Easy upfits
Designing the frames for upfitting improves durability and reduces warranty costs from unapproved modifications.
There are no components or lines above the rear frame rails, reducing the need for modification and relocation. For example, the diesel exhaust fluid (DEF) tank is located under the cab and out of the upfit zones.
The frames are built with high strength 50,000-psi steel and eight separate cross members.
Frame lengths come in industry standards of 1,524 mm (60 inches), 2,133 mm (84 inches), 2,743 mm (108 inches) and 3,048 mm (120 inches).
The one piece, C-channel rear frame rails and through-the-frame plumbing and electrical provide a flat plane for ease of mounting application bodies and accessories.
To reduce roll oversteer and to improve tracking at highway speeds, the drag link is positioned over the track bar.
An exclusive backup camera is available and delivered with factory wiring and multipurpose mount for easy installation by the upfitter. The camera provides a view of the rear with high definition and dynamic imaging in the optional 5- or 8.4-inch radio display, or in the 1.7- x 3-inch display in the rearview mirror. A new ParkSense backup sensor option is coupled with an exclusive front-park-assist system.
An optional, dual 220-amp alternator system (440 amps total) on the diesel-equipped Ram Chassis Cab provides for the higher electrical loads required in select upfits, such as emergency lighting and electric clutch pumps. The 6.4-litre HEMI V8 powertrain also gets a dual-alternator option, pairing a 220-amp unit with a 160-amp unit for a total of 380 amps.