JAWMAX 1006 ECO/MAXI
Mobile jaw crusher eliminates the need for a second crusher to process oversize material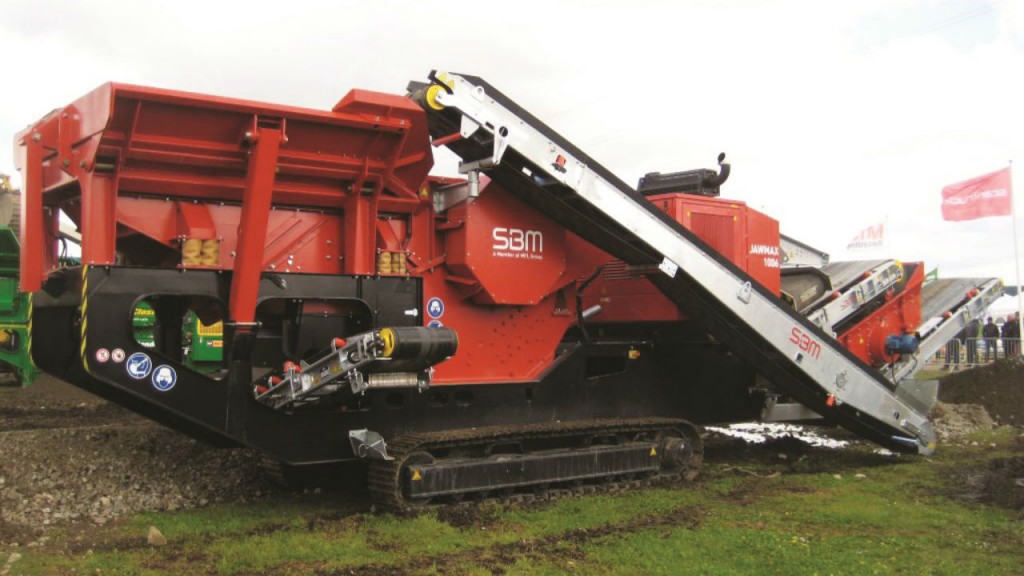 SBM is offering a unique solution on a jaw crusher plant. The new JAWMAX 1006 ECO/ MAXI is a compact and powerful tracked mobile jaw crusher plant for aggregates production and recycling, like the base model, the JAWMAX 1006 ECO. One main difference is that the MAXI version offers a closed circuit system to return oversize material to the hopper via a side conveyor for reprocessing. This can eliminate the need for a second crusher, typically an impact crusher, to process the oversize. The centrepiece of the plant is an STE 100.60 ASV single-toggle jaw crusher.
In addition to wear resistant jaw plates, the JAWMAX 1006 ECO/ MAXI has several innovations. First is the new overload protection function which prevents unbreakable objects and materials, such as hard metals, from damaging or blocking the crusher. The crushing jaws, which are hydraulically controlled, automatically open so that the unbreakable material can safely pass through the crusher; the moveable crusher jaw will then automatically move back to the pre-set gap position and the crushing process will continue without delay. A blockage caused by unbreakable material would normally cause hours of down time and serious damage to the toggle plate. That problem is eradicated by this innovative feature.
The unbreakable materials get removed from the discharge belt by the overhanging magnet separator. The JAWMAX's closed circuit system means that the crushed product is then screened by the single-deck circular vibratory screener attached to the main discharge conveyer. Any oversized product is automatically sent back to the feeder opening to be sent through and crushed again. This process ensures a more consistent and accurate product size.
The STE 100.60 ASV handles feed sizes of 950 x 550 mm, which can be processed to a final grain size of 0/32 to 0/200 mm, at a throughput capacity of up to 200 tph.
Due to improved pre-screening with conical vibrating grizzly feeder, the material is efficiently separated even before the crushing process begins.
SBM says that their compact mobile jaw crusher plant plus screening unit is an industry first that provides homogeneous screening in one step. The single-deck circular vibratory screening unit measures 2,700 x 1,200 mm and can be provided with various screen linings that assure an oversize-free final product suitable for immediate further processing.
The JAWMAX has a compact transport size of 10 x 2.6 x 3.2 m and a total weight of 29.7 tons, allowing for easy and economical transportation on standard flatbed trailers. The dieselelectric drive system greatly reduces fuel consumption in comparison to diesel-hydraulic drive systems.
Company info
Related products