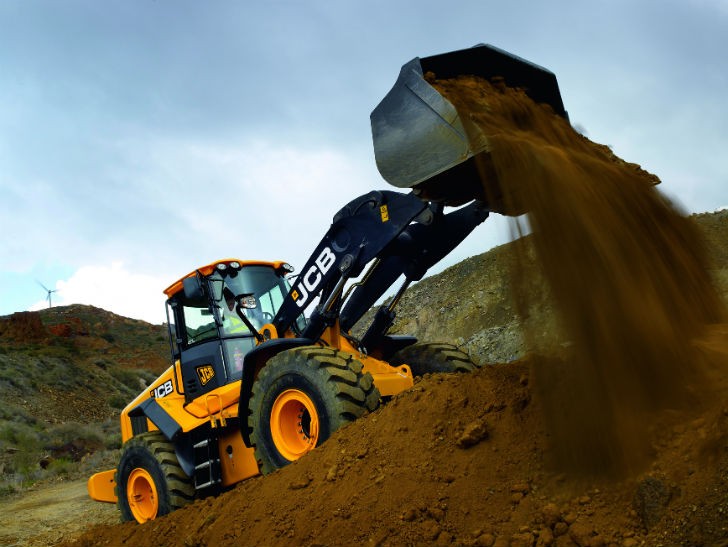 The JCB 457 features a completely new cab, engine cover and rear counterweight design. The 457 meets emission standards without a DPF. The 7.7-litre MTU Tier 4 Final engine delivers 258 hp (193 kW), up from 250 hp (186 kW) on the previous machine. The engine delivers this increased output at lower rated engine revs, cutting fuel consumption, noise and emissions. JCB has also fine-tuned the match between engine, torque converter and transmission to perfectly match the engine with both the standard four-speed and optional five-speed transmissions. Fuel savings are around 16 percent over the previous model.
The new cab has A pillars that have been moved out to the same width as the rear of the cab, providing a larger interior with a panoramic front windscreen. The machine features revised pedals, a new adjustable steering column and seat-mounted hydraulic controls. All switches and auxiliary controls have been repositioned for easier access and the heating, ventilation and air conditioning system has been repositioned outside the main cab structure, providing more space inside the cab.
The new sloping one-piece engine canopy can be electrically raised away from the cab to improve access to the engine and drivetrain. The rear section can be hinged away to provide access to the cooling pack.
Four loader arm options are available. These include four-ram parallel lift geometry HT arms in both standard and super high lift configurations, and traditional Z-bar linkage arms in standard or high lift. All loader arm options can be ordered with 2-, 3- or 4-spool hydraulic valve options to work up to two auxiliary controls simultaneously.