Region-specific quick coupler solutions for old attachments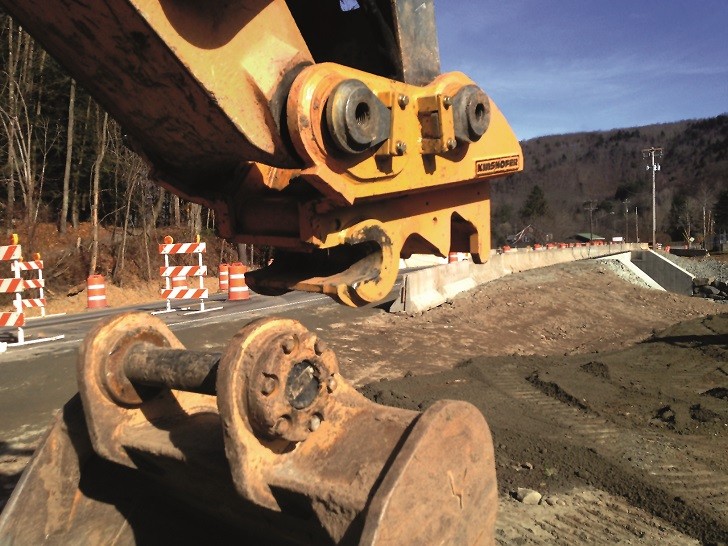 As often the case these days, original equipment distributors (OEDs) are faced with the challenge of selling a machine to a customer who has an inventory of old attachments they want to use with their new machine. The company Contractor Sales of Albany, NY, and Jeremy Rauf, the responsible salesman, found themselves in this situation after selling a Liebherr 964 to a customer who had multiple Cat buckets he wanted to use to replace an old bridge in Roscoe, NY. Contractor Sales had initially purchased another brand coupler to mount onto the Liebherr to pick up the Cat buckets. Problem was, it didn't come as advertised and could not pick up the Cat 330CL with the D-linkage buckets which requires a 90mm pin in the stick and 80mm pin in the linkage. Fortunately, Bill Liburdi, Contractor Sales' rental manager, had heard of the KINSHOFER-coupler before, and contacted the company about its X-Lock brand coupler. KINSHOFER, using the required specifications of the D-linkage, was able to design a coupler that would mount to the Liebherr machine and also pick up the necessary attachments. Contractor Sales showed their customer that they had his best interest in mind in providing a coupler that could be mounted to his new machine while allowing him to utilize his existing inventory. Kinshofer demonstrated that they know the importance of providing a solution that makes their customers, the dealers, look good.
Customers need experienced allrounders. KINSHOFER has expanded its coupler and bucket line once more this year. Building on the success of the S-type coupler built in Sweden by the KINSHOFER subsidiary RF-System AB, and KINSHOFER's own X-Lock pin-grabber style coupler in the UK, France and North America, KINSHOFER is now offering a coupler and bucket solution for its original market, Germany. Having long supplied specialty attachments for excavators in Germany, designing and building its own coupler system that matches quality with the leading coupler system in the region is a natural progression. It also reaffirms KINSHOFER's philosophy of developing solutions that embrace regional preferences and requirements rather than forcing a single solution into all regions. With the introduction of the German-specific style of couplers and buckets KINSHOFER becomes one of the leading sources of different excavator coupler solutions, regardless of style.
According to Stefan Sparwel, product manager for couplers & buckets, "As a global company, we understand that in different regions customers have grown accustomed to particular styles and features of products, including couplers. While we try to improve on designs in order to offer things like greater productivity and especially safety, we understand that customers have existing inventories with which we must make our couplers compatible. We respect regional differences and work to offer the solutions that each require."
Understanding these particular preferences and requirements of the German customer, KINSHOFER's offer includes mechanical (KMS) and hydraulic couplers (KHS) from 0.5 t – 40 t / 1,100 – 88,000 pounds, the types larger than 1.5 t being made of special cast steel material. Using KINSHOFER's own Rotary Actuator, the tilt couplers of the TC series are offered for excavators with an operating weight of 1,5 t up to 22 t / 3,300 – 48,400 pounds. End-users who are used to operation with mechanical and hydraulic couplers today do not experience any differences in using the KINSHOFER models.
"We are excited about some of the things we have planned for all of our couplers as we look to integrate some of the best features from each of the styles into others. Designing and building multiple styles allows us to evaluate, in-depth, the best qualities that can be shared across platforms," Sparwel adds. Of course, couplers are only part of the solution and not very good without the ground engaging attachments they connect to. To complement the state-of-the-art couplers there is a line of digging, ditching and tilting buckets from the 0.5 t through the 40 t / 1,100- to 88,000-pound classes. All are made of high quality materials that the marketplace expects; different teeth, widths and styles are available on demand. Tilt buckets will utilize either hydraulic cylinders or KINSHOFER's own Rotary Actuator based on the customer's demand.