GOMACO creates world's first 3D-controlled bridge deck finisher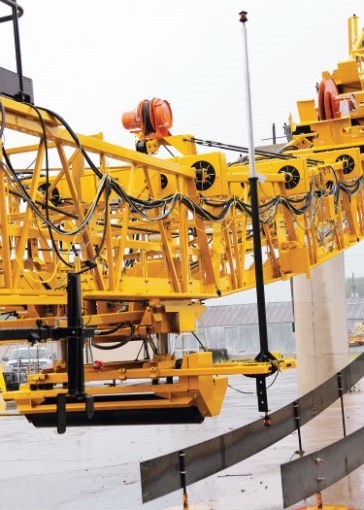 GOMACO helped pioneer 3D guidance systems and the concept of stringless paving in the late '90s for mainline pavers and curb and gutter machines. Now, GOMACO is the first to introduce 3D-controlled cylinder finisher applications on their complete line of finishing machines. A GOMACO C-450 cylinder finisher with a 3D guidance system was one of the featured machines in the GOMACO booth this year at World of Concrete.
The first GOMACO cylinder finisher with 3D guidance was put to work in November 2014 on a test track in China. A GOMACO SL-750 slope cylinder finisher was used for placing the lean base material and the concrete track. The surface of the track had to meet the unique profile so GOMACO and its 3D team created a system to control the undercarriage, raising and lowering it to match the surface elevation of the profile.
GOMACO modified smart hydraulic cylinders to create a vertical adjusting undercarriage. The hydraulic cylinders have 15 inches (381 mm) of stroke to raise and lower the undercarriage. A 3D guidance system with one mast and prism controls the rear smart cylinder's vertical movement, with both cylinders moving in the same ratio to each other. The undercarriage is outfitted with a 3D mast with prism, as well as a slope sensor. The mast raises the prism high enough for the total station to see it without interference from other jobsite obstacles. The hydraulic smart cylinders make adjustments based on the calculated position of the bottom of the finishing drum, which is the top of the concrete surface. The information to move the undercarriage is collected through a series of measurements taken and computed by the 3D system's components, including the prism, slope sensors, long-range Bluetooth radios and 3D computer.
The knowledge and information gained from the successful completion of the test track and that first SL-750 with 3D guidance can now be applied to all GOMACO finishers and the variety of applications they work on, from test tracks, to canals, to bridge decks and more. The C-450, one of the first machines to be manufactured by GOMACO Corporation, has a long and successful history within the construction industry. The current C-450 model is capable of paving widths from 12 feet (3.7 m) to 104 feet (31.7 m), with transitional framework. Its pin-connected sections provide fast setup time and versatility to fit the requirements of the project. It features GOMACO's three-point finishing system with an auger to level the concrete, a cylinder to consolidate and finish the concrete, and the float pan to seal and texture the surface.
GOMACO's exclusive G+ control system seamlessly integrates with all of the major 3D guidance systems, including Topcon, Leica Geosystems and Trimble.
Company info
Related products
Related Articles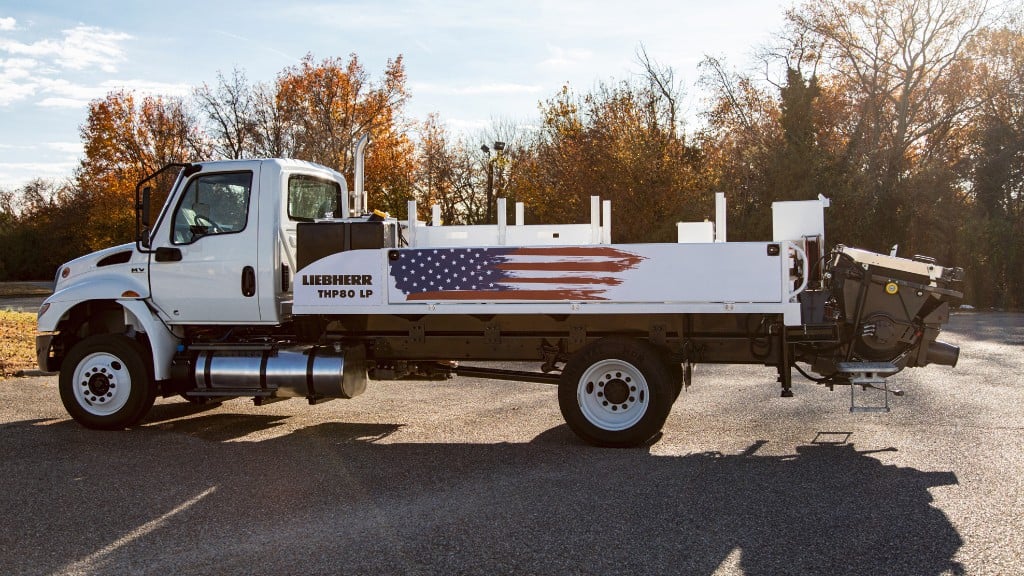 Small and versatile Liebherr truck mounted concrete city pump showcased at World of Concrete