Hyster receives Good Design award for ReachStacker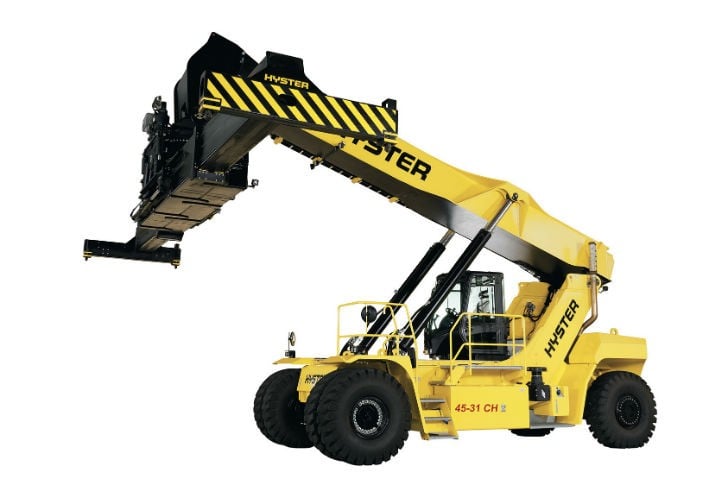 Hyster Company has announced that it has won a 2015 Good Design award for its Tier 4 Final RS45-46 ReachStacker. Presented by the Chicago Athenaeum Museum of Architecture and Design, Good Design honours yearly achievements of extraordinary design excellence. The Tier 4 Final ReachStacker was selected based on its efficient engine technology and productivity enhancing design.
"At Hyster, we continually examine our products, looking for innovative ways to increase efficiency, reduce emissions, improve fuel economy and lower the total cost of ownership – all while maintaining the level of power and performance needed to move even the heaviest loads," said Herman Klaus, Director of Big Truck Application Solutions for Hyster. "Receiving a Good Design award for the Tier 4 Final ReachStacker is a result of this dedication, confirming our philosophy of design excellence."
Engineered to be the most maneuverable in the industry, with class-leading lifting speeds and excellent stacking capabilities (can stack up to five containers high and three rows deep), the award winning ReachStacker is ideal for demanding port and terminal applications. To power through these challenging jobs, the ReachStacker comes standard with a Tier 4 Final Cummins QSL 9L engine rated at 350 hp (261 kW) and a 4-speed Spicer Off-Highway TE 32 powershift transmission. The truck features an integrated drivetrain with an emission reduction package, and is designed to help increase efficiency by delivering up to 20 percent lower fuel consumption over previous Tier 3 engines. Additionally, the truck is equipped with hibernate idle, which reduces idle speed when idling for extended periods of time, further conserving fuel.
To maintain optimum cooling and lower fuel consumption, the ReachStacker comes with an on-demand cooling system with a hydraulically powered fan that operates only when cooling is required. This is more efficient than direct drive fans which continually draw power during operation.
The series also includes a load sensing on-demand hydraulic system that delivers flow only when necessary. The on-demand hydraulic system's variable displacement pumps are capable of more oil displacement, even at low pump speeds. This allows the engine to run at lower speeds and extends the life of hydraulic oil and components, while consuming up to 10 percent less fuel than a typical fixed displacement hydraulic system, and produces less heat and noise. The ReachStacker also includes automatic throttle-up, an innovative feature that automatically increases engine throttle to match desired hydraulic speed, which keeps the engine operating in its most efficient power band, while making operation easier for the driver.