Bobcat Company to showcase new skid-steer loader at World of Concrete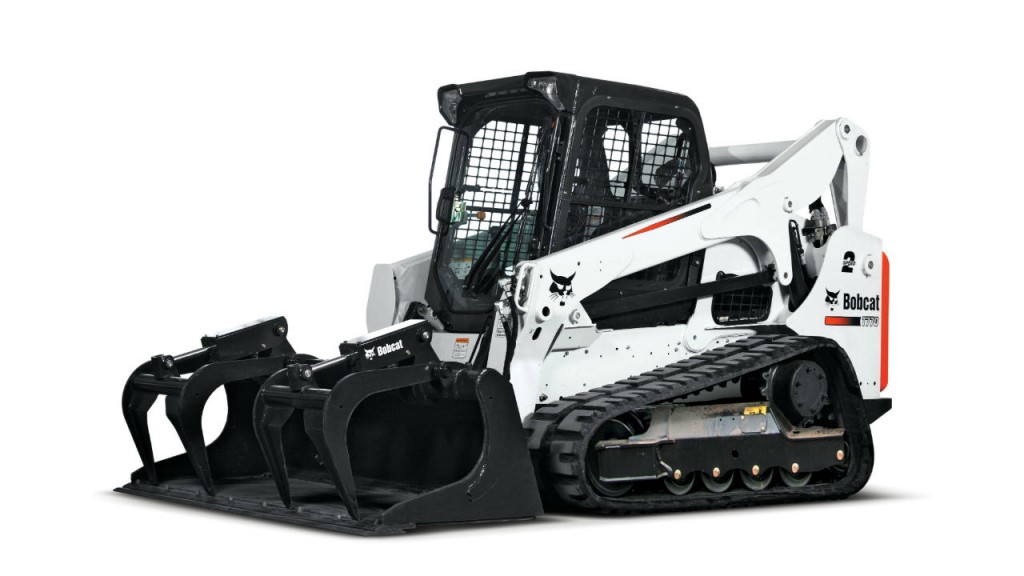 Bobcat Company will display several pieces of compact equipment at booth C5479 at the Las Vegas Convention Center during the annual World of Concrete in Las Vegas, February 2 – 5, 2016.
On display will be the new Bobcat T770 compact track loader, S595 skid-steer loader, and MT85 mini track loader. The T770 will be paired with the new 3D grade control system, the S595 with a drop hammer attachment and the MT85 with an HB680 hydraulic breaker. Also at the exhibit will be the S450 skid-steer loader with an industrial grapple and the E32 compact excavator with a three-tine grapple.
T770 compact track loader
The new T770 compact track loader features a powerful Tier 4-compliant, Bobcat 3.4-litre diesel engine. With a vertical lift path, the T770 is ideal for heavy-lifting, truck-loading and digging applications.
Bobcat diesel engines deliver high-performing torque across a wide span on engine rpm, and lower engine noise for enhanced operator comfort. The new T770 does not require a diesel particulate filter (DPF), which requires a regeneration process and routine filter cleanings.
New features of the T770 include:
Diesel exhaust fluid (DEF) level indicator: found on the display panel and informs operators how much DEF is in the loader's tank
Selective catalytic reduction (SCR) error icon: illuminates on the display panel when the DEF tank is at 25 percent capacity
Electric air inlet fans: located in and above the loader tailgate help keep the engine compartment cool
Attachment: 3D Grade control system
Small and large contractors can now work on projects that require digital designs and 3D machine control with the new Trimble GCS900 grade control system for use with Bobcat 96- and 108-inch heavy-duty grader attachments. The new grade control system paired with a Bobcat loader and grader attachment makes it easier for operators to complete construction applications: residential and commercial development, coastal engineering, road and highway building and land reclamation. The system allows operators to work at higher speeds without losing accuracy, increases valve responses and is a more robust grading solution.
Other benefits of the system include:
Less rework
Less staking and checking
Lower operating costs
Improved material usage
Faster job cycles
Easy installation
The 3D grade control system can be used with the following M-Series loaders: the S750 through S850 skid-steer loaders; T650 through T870 compact track loaders; and the A770 all-wheel steer loader. A deluxe instrumentation panel is required for M-Series loaders in order to use the 3D system.
S595 skid-steer loader
Operators looking for increased performance and productivity in a 74-horsepower machine will find it in the new S595 skid-steer loader. The 500-frame-size skid-steer loader boasts a 2,000-pound rated operating capacity (ROC), making it ideal for those who need to lift and carry more material, without moving up to a larger machine size.
The vertical-lift-path S595 skid-steer loader offers customers a variety of M-Series loader features, including exceptional operator comfort, machine performance and enhanced visibility.
Other features include:
Standard two-speed travel: allows operators to choose between low and high speeds to match jobsite conditions and tasks
Pressurized cab: minimizes dirt and dust and keeps operators more comfortable
Simple checkpoints: makes it easier to perform routine maintenance
Auxiliary quick couplers: mounts directly to the front plate of the lift arm
Guard bar: extends in the front of the coupler for added uptime protection
Simple hose routing: hoses are routed through the loader arms for better protection
MT85 mini track loader
The Bobcat MT85 mini track loader boasts increased lifting capabilities, additional stability and durable components to help operators efficiently complete everyday or challenging tasks in limited-space jobsites. The new mini track loader has a 35 percent higher ROC than prior iterations — rated at 850 pounds — to lift, carry and dump more material. For additional productivity, operators can lift materials higher with an increase of 12 percent in lift height. For hard digging conditions, the lift-arm breakout force has been increased by 29 percent from the smaller MT55 mini track loader.
Other improvements include:
Track length on ground: adds 6 inches for additional stability
Dual ISO joystick controls: increases operator precision and comfort
Standard ride-on platform: provides improved visibility to the attachment, easy access to the loader controls and improved overall operator comfort
Two track width options: 36-inch narrow track allows customers to maneuver through tight areas and the 42-inch-wide track increases stability and operator comfort
The MT85 can be ordered with a common industry interface (CII) or the Bob-Tach attachment mounting system. The CII will allow customers who are accustomed to the pin-on design to retain the familiarity of their chosen interface and have it matched to an MT85. New Bobcat attachments introduced with the CII include:
Auger CII
Buckets CII: 36 or 44 inches
Hydraulic breaker CII
Pallet fork CII
Trencher CII
Attachment: HB680 breaker
Break concrete and cut through asphalt easier with the HB680 hydraulic breaker. The attachment delivers maximum efficiency by matching hydraulic capacity to the carrier to the breaker, allowing for consistent performance. The HB680 breaker has a quieter and smoother operation yet still maintains a powerful 1,340 blows per minute. This attachment is compatible with the E20 and E26 excavators, MT55 and MT85 mini track loaders and S70 skid-steer loader.
S450 skid-steer loader
The S450 provides operators with top-notch comfort and performance — and is less than 5 feet wide for working in tight jobsites. The 49-horsepower S450 has a 20 percent increase in auxiliary hydraulic pressures from its predecessor and features a non-diesel particulate filter (non-DPF) engine solution.
The radius-lift-path loader has a low operating weight and optimal reach for loading or unloading palletized materials from trucks or backfilling around foundations. The S450 has an optional two-speed drive, with a top speed of 6.5 mph in low range and 9.2 mph in high range, when equipped with optional Selectable Joystick Controls (SJC).
The S450 skid-steer loader offers customers multiple enhancements, including operator comfort, machine performance and enhanced visibility. In addition, the hydraulic systems on the M-Series loaders, including the S450, are designed for higher pressure — at 3,300 psi — which provides a 22 percent increase in attachment performance.
Attachment: 66-inch industrial grapple
Handle demolition rubble, building materials, recycling, salvage or scrap materials with ease with the industrial grapple attachment. The two-arm design provides a strong, even biting force. Operators can choose from a bucket or fork bottom for maximum load capacity.
The 66-inch industrial grapple attachment is approved for the S450 through S770 skid-steer loaders, the T450 through T650 compact track loaders and the 5600 and 5610 Toolcat utility work machines.
E32 compact excavator
A popular model in the 3- to 4-ton size class, the 33.5-horsepower E32 compact excavator provides unmatched power, excelling in a variety of high-load conditions — due to class-leading multi-function cycle times. The new Tier 4-compliant compact excavator features a non-DPF engine solution, first-class operator comfort and ample dig depth and reach. The E32 conventional-tail-swing compact excavator can perform well in tight spaces and under high-load conditions — and sustain travel speeds during pushing and climbing functions.
Machine features include:
Forward-mount instrumentation system: allows the operator to maintain awareness of machine vitals without losing focus on the task at hand; improves ergonomics when the operator is interacting with the panel
Cold weather protection: temporarily limits the maximum engine speed (rpm) to prevent premature component wear or failure
Optional extendable arm: provides up to 30 inches of additional reach when at full extension, minimizing machine repositioning and improving operator productivity
Clamp ready: offers an ideal solution for operators wanting to pick up, carry and place materials such as rocks, landscaping materials and debris in site preparation applications
Attachment: Three-tine grapple
Excavator operators can lift and move brush, logs, landscaping stones and other hard-to-manage materials with the three-tine grapple attachment. Operators can use the attachment alone as a rake or combine with a hydraulic clamp for increased versatility. The three-tine grapple is approved for Bobcat E26 through E63 compact excavators.
E50 compact excavator
For customers who need a larger excavator, the E50 stands out in the 4- to 5-ton size class. The Tier 4-compliant excavator includes a non-DPF engine solution and a 12 percent increase in torque from its previous iteration. This increase in torque is produced over a wide range of engine rpm, allowing operators of all skill levels to better utilize the machines' maximum performance. The minimal-tail-swing compact excavator is designed for projects in tight areas, without sacrificing digging or attachment performance.
Machine improvements include:
Forward-mount instrumentation system: allows the operator to maintain awareness of machine vitals without losing focus on the task at hand and also improves ergonomics when the operator is interacting with the panel
Cold weather protection: temporarily limits the maximum engine speed (rpm) to prevent premature component wear or failure
Thirteen Bobcat attachments help these two versatile excavators do more than dig. Approved attachments include augers, hydraulic breakers, plate compactors, grading buckets, trenchers and rippers, to name a few.
The X-Change attachment mounting system, available on some models, increases productivity by quickly changing between attachments. Another option is the Hydraulic X-Change system, which uses hydraulic pins that retract and extend with the push of a button to change attachments, and it maintains optimal pin-on bucket geometry to ensure arm and bucket forces are not compromised.