Kleemann mobile jaw crushers completely redesigned to reduce weight for easier transport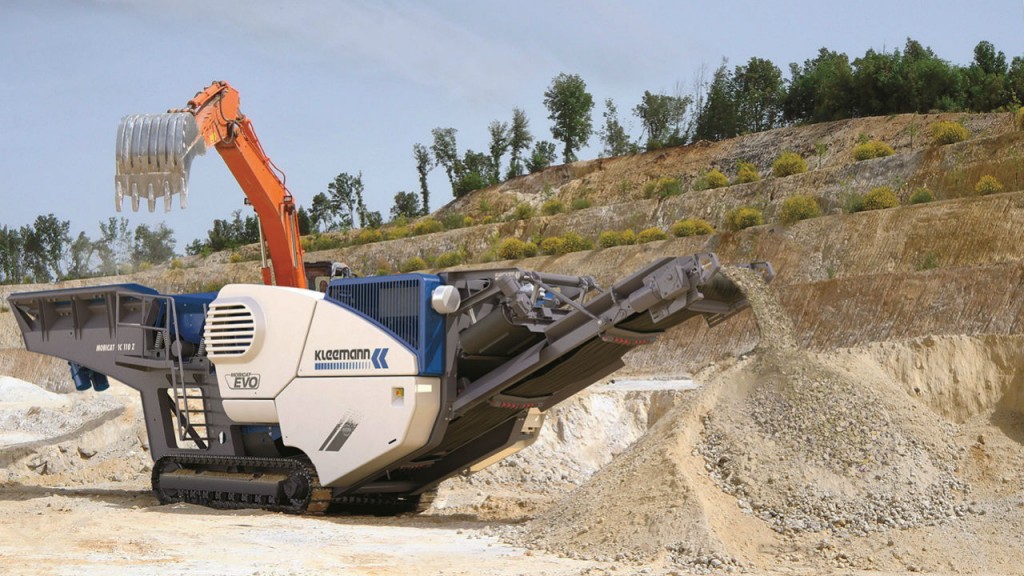 Kleemann has two new mobile jaw crushers featuring EVO technology – the Mobicat MC 110 Ri EVO and MC 110 Zi EVO.
The MC 110 Ri EVO has a vibratory feeder with integrated grizzly, while the MC 110 Zi EVO incorporates a vibrating feeder with an independent, double-deck, heavy-duty prescreen. Both feature a crusher inlet of 28 x 44 inches.
Wear in the system is reduced because medium and smaller gradations bypass the crusher, with an increase in end product quality through discharge of fines via the side discharge conveyor. A bypass flap provides easy diversion of the material flow, eliminating the need for a blind deck.
Both machines have been completely redesigned with a lighter transport weight to ease portability, with the MC 110 Ri EVO weighing 85,000 pounds, and the MC 110 Zi EVO weighing 87,100 pounds.
The new Mobicat MC 110 Zi and MC 110 Ri expand Kleemann's popular EVO Contractor Line of crushers.
The new Mobicat EVO series has been redesigned from scratch. New features include hopper walls integrated in the chassis, and a fully hydraulic crushing gap adjustment via touch panel.
The crusher has an extra-long, articulated crusher jaw. Like the EVO Mobirex mobile impact crushers, the new Mobicat EVO mobile jaw crushers utilize direct drive crushers and electric drives for the vibrating conveyors, belts and the prescreen. This permits extremely efficient operation with low fuel consumption, and allows optimal loading of the crusher.
The Kleemann Continuous Feed System manages a more equal loading of the crushing area, in which the conveying frequencies of the feeder trough and the prescreen are adapted independently of each other to the level of the crusher, thus significantly boosting performance.
These crushers incorporate a newly designed longer swing jaw, which prevents blocking of coarse material while moving all mounting elements of the crusher jaw from the wear area. In addition, the transfer from the prescreen or the feeder trough is designed so material simply tilts into the crushing jaw, providing an even material flow. The new Kleemann Mobicat MC 110 Ri and MC 110 Zi achieve outputs of up to 300 tons per hour.