Three Multiquip concrete power trowels that finish the job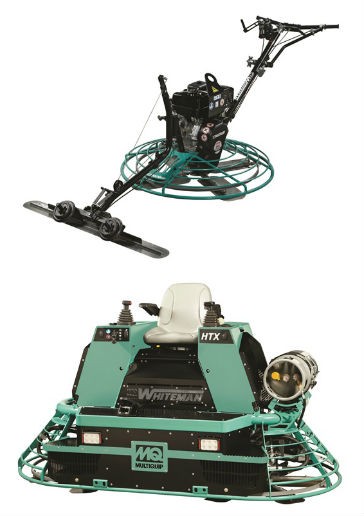 The hydrostatic-drive MQ Whiteman HTXG6DF is a ride-on power trowel. A 2.4-litre gasoline-LPG engine delivers power and flexible dual-fuel operation, with the torque needed for panning and top-end rotor speed needed for finishing concrete. The engine power management feature senses load and adjusts hydraulic pump stroke to operate at peak efficiency. Increased chassis rigidity, achieved by lowering the centre of gravity, reduces body roll, minimizes over steer and improves steering control. The HTX also includes practical features such as SmartPitch control which synchronizes blade pitch with a single touch of the button. LED lights provide clean, bright illumination during indoor pours.
The MQ Whiteman InstaClutch line of walk-behind concrete finishers are available as 36- inch and 46-inch diameter trowels.
An integrated boom on the MQ Whiteman PRO Trowel allows the operator to deploy either a fresno blade or broom attachment during the final trowel pass. This unique, innovative trowel saves money and time by increasing productivity during jobs such as parking structures, multi-story buildings or any job that does not require a burnished surface. PRO Trowels are available in 36-inch and 46-inch machine sizes.
Company info
Related products