Schwing pumping world's tallest building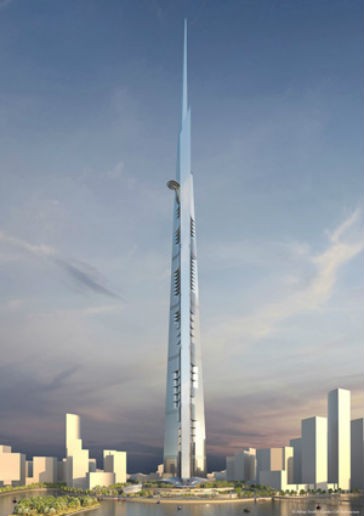 At more than 3,281 feet the Kingdom Tower in Jeddah, Saudi Arabia, will be the tallest building in the world after its scheduled completion in 2020. The observation deck, which will offer a breathtaking view at a height of 630 metres, will break another world record. The skyscraper is part of a new urban development project in Kingdom City, in the North of Jeddah.
Adrian Smith + Gordon Grill,based in Chicago, designed the building for the Jeddah Economic Company. A hotel, offices, apartments and a shopping centre will cover over 5.7 million square feet over 240 floors. The Tower will be divided into two parts: the "Residential Tower" comprising 167 floors up to a height of 2,211 feet. This is followed by the "Spire" spiraling up to a height of 3,156 feet and comprising floors 168 to 240. Up to this level, the building will be constructed in reinforced concrete. The "Steel Spire Pinnacle", the final apex, will be constructed from steel elements, up to the planned height of over 3,281 feet.
For the concrete logistics of this demanding construction project, the contractor is banking on the expertise and products of Schwing Stetter, which has completed numerous demanding construction projects in the region.
Two Stetter HN 3.0 batch plants are producing the concrete necessary for the mega-project on site to assure a reliable concrete supply. Four Schwing SP 8800 D stationary pumps with engine power of more than 600 hp each and maximum pressure of 3,523 psi are pumping the concrete. A high-performance, self-compacting concrete (SCC) C85 will be used for the construction phase up to a height of approx. 1,312 feet. The next construction phase extends up to a height of approx. 2,214 feet with a high-performance concrete, but with lower compressive strength. A concrete pump will be installed at the top of the second construction phase to transport concrete to the higher floors.
The project is using five Schwing placing booms (SPB): three SPB 35s and two SPB 30 booms that climb along with the building.
Part of the Schwing Stetter order includes over 3,2181 feet of pumping line for the first construction phase up to 656 feet.
Schwing Stetter engineers were influential in the placement of the stationary pumps, lay-out of the pumping lines and determining the best locations for the separate placing booms. Schwing truck-mounted concrete pumps were used to concrete the bored piles reaching more than 400 feet deep to ensure stable conditions.