G. Cooper Equipment Rentals to Acquire SMS Rents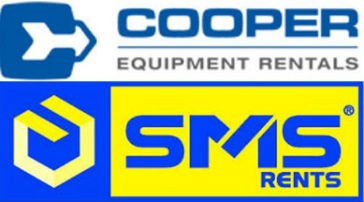 G. Cooper Equipment Rentals Limited ("Cooper") of Toronto has announced a definitive Share Purchase Agreement to acquire SMS Rents, a division of SMS Construction and Mining Systems Inc. The transaction is expected to close by December 31, 2015.
Cooper, backed by Canadian private investment firm, SeaFort Capital, based in Halifax N.S., is the leading compact equipment rental company in the Greater Toronto Area, operating six full service equipment rental locations from Burlington to Scarborough. SMS Rents, a member of the Sumitomo Corporation Group, is a division of a major Canadian construction equipment business. SMS Rents employs over 200 people and operates 15 branches located across Ontario and Quebec.
Announcing the purchase, Darryl Cooper, CEO of Cooper said, "By combining SMS Rents and Cooper, we are creating a strong Canadian business with considerable scale. Each of our 21 full service branches employs a highly skilled and knowledgeable team and offers a specialized fleet comprised of category leading brands." Doug Dougherty, President of Cooper, added, "SMS Rents has an excellent reputation for customer service and support. SMS Rents' employees share our passion for delivering the best possible equipment solutions for customers. I am confident that the combination of Cooper and SMS Rents will result in exciting new opportunities for all employees and continued great service for customers, over a much broader network. This will also be our first exposure to Quebec and we are excited about the opportunities in this vibrant marketplace."
Established in 2003, SMS Rents has built a loyal customer base across several industries, including building construction, infrastructure development, demolition, landscaping, industrial maintenance and mining.
The two branch networks will continue to operate under their current business names for the immediate future and through a transitional phase in the New Year. Dougherty notes that the service areas of the 21 locations have almost no overlap and does not anticipate any store closures. "This is a positive move for both companies," says Dougherty. "This agreement was a collaborative effort between companies that share common values and a common vision. Our people, facilities and rental fleets are highly complementary. We expect the integration of our businesses to result in an excellent stable platform for future growth."
The leadership team at Cooper was also congratulated by the President of SMS Rents, Marcel Langlois. "Cooper has a proven reputation in the industry for integrity and fresh thinking. The SMS Rents 'Job Ready' approach blends well with Cooper's established culture. The Sumitomo Corporation Group has enjoyed its time as it built SMS Rents, and was fortunate to come together with a strong Canadian organization at Cooper that recognizes the value of our enterprise. Now, with our combined resources, the Cooper/SMS Rents network is uniquely positioned to deliver smart equipment solutions to customers throughout Ontario and Quebec."