Hipower Systems High-Efficiency Apollo L-30 LED Lighting Tower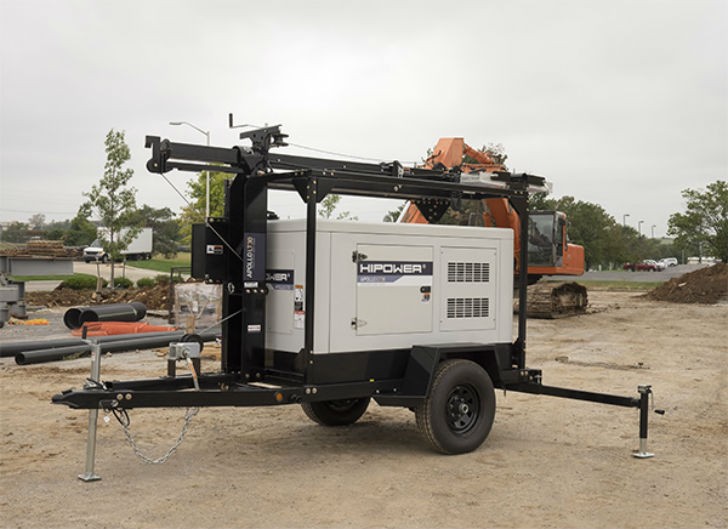 Hipower Systems has announced the Apollo L-30 – a heavy-duty, generator-equipped lighting tower. The ultra-long-lasting, energy-efficient LED lighting is the first to be designed specifically for the rigorous demands of the mobile worksite. According to the company, it is also the only light source for light towers that meets Illuminating Engineering Society (IES) standards for glare reduction, bug reduction (attracts 80 percent fewer insects than traditional lights) and shadow reduction.
"Our customers and distributors told us they were tired of lighting towers with hot, dangerous, energy-wasting halogen lights," said Hipower Systems President Rafael Acosta. "They wanted a better answer, and we gave them one."
In addition to the lighting solution, the Apollo L-30 also comes standard with a 20kW HYW-20 M6 Hipower Systems diesel generator powered by a Yanmar Tier 4i ABT-Flex engine and housed in a rugged, sound-attenuated enclosure. Due to the extremely lower power consumption of the LED lights, operators will have access to up to 14.4kW of generator power for other uses even while lights are running. Generator power will be accessible via a built-in, external distribution panel with twelve 20A GFCI receptacles, each with an individual breaker. (Other configurations are available upon request.)
Light and Lamp
Each lamp contains four quick-connect LED lights with these features:
Designed to outperform the halogen lights traditionally used in tower assemblies, the lights are nearly impervious to impact breakage and come with a four-year warranty.
Lights are safe and cool to the touch, reaching a maximum temperature of 140 degrees Fahrenheit (60 degrees Celsius).
Lights turn on and off instantly, eliminating the "warm-up" phase required for halogen lights.
Each light has an expected life of more than eight years (50,000 hours), far outlasting comparable halogen bulbs.
All lights are rated for illumination up to -40 degrees (Celsius or Fahrenheit).
Illumination intensity is constant for the life of the unit. Traditional (aka halogen) lights can lose up to 40 percent of their intensity within the first year.
With appropriate mounting, the lights conform to DOT anti-glare regulations.
Mast (Tower)
The three-stage mast incorporates the following features:
The mast can be extended to 30 feet.
A mechanism allows the light frame to rotate 90 degrees for street-lamp-style lighting while the mast is raised or to allow ground level lighting while the mast is in stowed position.
Two extendable outriggers with sand pads and one trailer jack provide three-point stability, allowing the light tower to remain erect in wind gusts of up to 65 mph.
Trailer
The single-axle, 5,200-pound trailer is delivered with a VIN number and is fully highway ready:
Four tie downs, chains DOT lighting and a 2-5/16 inch ball coupler make towing safe and easy.
Electric brakes and 15-inch tires are standard equipment.
Generator and Enclosure
The 20kW Hipower Systems diesel generator offers numerous convenience and performance features:
The generator is powered by a reliable, Yanmar Tier 4i ABT-Flex engine.
An 87-gallon metal fuel tank with convenient four-inch filler neck provides up to 107 hours of continuous operation at 50 percent load.
A built-in fluid containment system holds up to 110 percent of the fuel and engine oil capacity to protect sensitive environments from leaks and spills.
An external oil drain and mechanical lugs at the generator side facilitate service and access.
Company info
Related products
Related Articles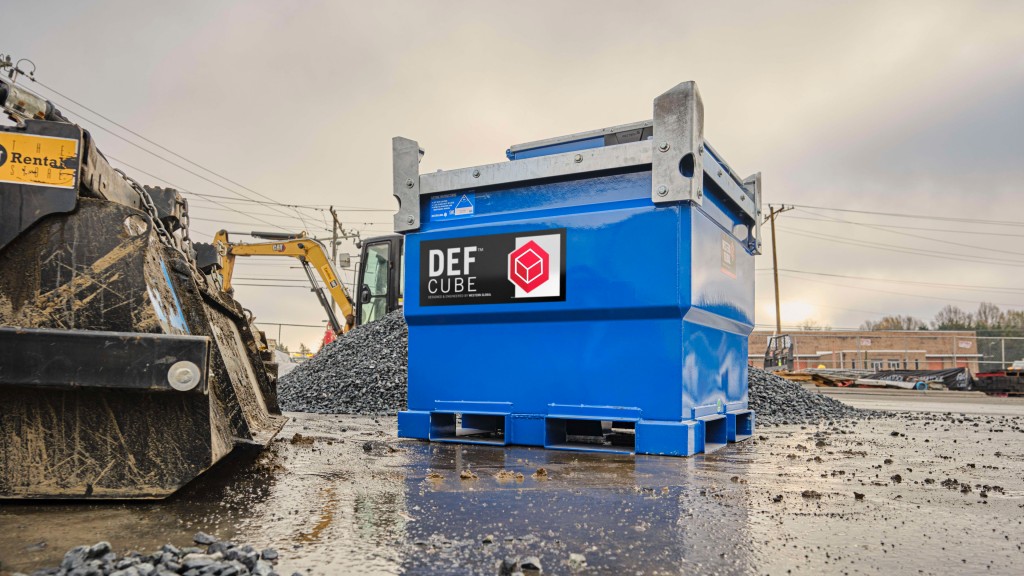 Western Global launches two new DEF storage tanks with universal filling technology