McLaughlin Vacuum Excavator Features Versatile Modular Design for Affordable Productive Potholing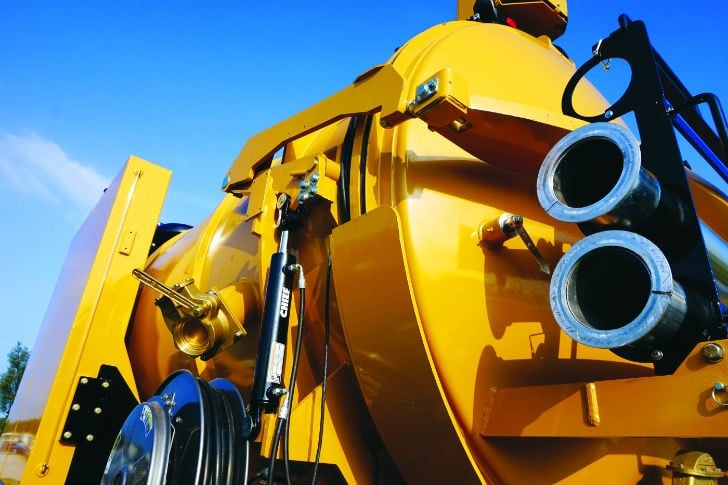 McLaughlin has introduced a new truck-mounted vacuum excavator series that fills a hole in the market by giving utility contractors productive potholing at an affordable package price, with the capacity and power they need to stay on the job longer.
The MEGA VX200 6-inch (15.2cm) vacuum excavator series features spoil tank capacities ranging from 1,200 to 3,000 gallons (4,542.5 to 11,356.2 L) and a standard option of 800 gallons (3,028.3 L) of fresh water. It has a 6-inch (15.2cm) hose diameter with a 3,200 CFM (91 m3/min) blower at 18 inches of mercury.
The tank, power pack and water system all have a modular design – versatility that allows a contractor to mount the unit on either a new or a repurposed truck chassis.
The MEGA VX200 6-inch series was designed after listening to customers who said they wanted a vacuum excavator for their potholing jobs and fluid management needs that fills a gap between smaller trailer-mounted vacuum excavators and the largest truck-mounted units.
"It has really been the customers who have shaped the specifications of this vacuum excavator," says Jeff Wage, McLaughlin vice president. "The MEGA VX200 will help them be more productive and, with the options for spoil tank capacity, stay on the job longer while reducing time away from the jobsite dumping spoils. It also has the reliability they need and is supported by the extensive Vermeer global dealer network."
The MEGA VX200 6-inch series is powered by a 200-hp (149kW) John Deere Tier 3 engine.
The MEGA VX200 features the McLaughlin industry-exclusive 3-stage cyclonic filtration system that allows for both wet and dry vacuum excavation while prolonging filter life and helping to keep maintenance costs low.
Additionally, the McLaughlin patented cam-over hydraulic rear door provides a 360-degree positive seal, without additional clamping requirements to keep fluids securely in the debris tank. No components are inside the tank, so maintenance is external.
The MEGA VX200 6-inch (15.2cm) vacuum excavator will be available this fall through the Vermeer global dealer network.
Company info
Related products