Rugged Flextec 500 from Lincoln Electric Simplifies Welding in Harsh Environments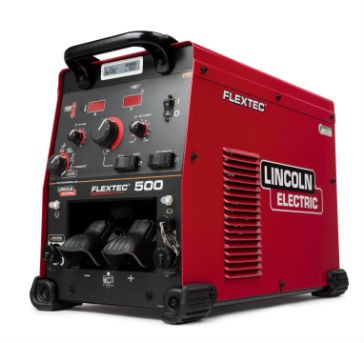 The new Flextec 500 multi-process welder from Lincoln Electric delivers up to 500 amps of inverter welding power with quick-and-easy setup and operation. Designed with harsh operating conditions in mind, it holds up to the rigors of tough environments – construction, fabrication, shipbuilding and other heavy-duty applications.
Broadly compatible with a variety of wire-feeder types, including analog, digital and across the arc, the Flextec 500 delivers premium, multi-process arc characteristics for stick, DC TIG, MIG, flux-cored and arc gouging. The machine's streamlined operator control panel reduces setup time, simplifying process selection.
With an output range of 5 to 500 amps, the Flextec 500 is rated at 450 amps, 38 volts at 100 percent duty cycle or 500 amps, 40 volts at 60 percent duty cycle. Despite the substantial welding output, this compact new model weighs in at only 125 pounds (56.7 kilograms). Flexible input power capability allows the welder to run on 380 through 600 volt, three phase input power.
Fully encapsulated electronics are environmentally protected in this IP23-rated welder. The unit's internal components are designed and tested to run cool for long life in high-temperature environments.
Also available is the Flextec 500P, which delivers up to 500 amps of inverter-based pulse welding for applications where precise heat input control is critical.