Atlas Copco Diamondback Modular Rig for Safer, More Versatile Drilling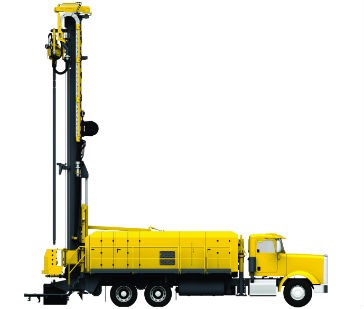 The new Atlas Copco Diamondback drill rig with optional sliding-angle mast drilling capability of 90 to 45 degrees offers drillers precisely the rig they need with shortened lead time. The rig's bolt-on modular components – a new concept in rig design – make it a truly multipurpose rig. Drillers can respond to rapid, after-sale changes in market opportunities and create a rig customized to their needs.
Like the Atlas Copco T2W and Atlas Copco TH60, drilling operations of the Diamondback are PTO driven, powered by the truck's 600-hp engine. An optional deck engine module is available for those who prefer a separate engine for drilling operations.
Safety enhancements include features and options such as hands-free pipe handling and breakout, enlarged operator and helper stands, a table safety cage and catwalks that meet or exceed industry safety standards.
The first series of Diamondback rigs is being introduced in the 40,000-pounds (178 kN) pullback class. Pulldown is rated at 30,000 pounds (133 kN). Future additions based on this first model will range from 25,000-pound to 100,000-pound (111 kN to 445 kN) rigs.
The first production rig will hit the field the summer of 2015, with more scheduled to come out of the Atlas Copco facility in Garland, Texas, later in the year.
Modular design advantages
USA-based Tom Moffitt, Atlas Copco Business Development Manager–Deep Hole Drills, said customers may find one of the greatest advantages of the Diamondback rig's modular design is significantly shortened lead time. Bolt-on components share universal mounting locations and connection points.
"This means factory slots won't be limited to just a few rigs of select models with little commonality among their rig-specific parts," Moffitt explained. "Customers just have to choose their options. One configuration doesn't necessarily take longer than another to build for them. Wait time between order and delivery is less."
Customers specify air and mud package, rod carousel or box, automated rod handling systems (or none), rotary head type, spindle size, 34- or 38-foot (10.3 to 11.6 m) tubular tower, and whether to have a carrier-mounted or tower-mounted table. Only the tower-mounted-table configuration can be used for angled drilling, however. Two tables are available, offering either a 24-inch (610 mm) opening or 17-inch (273 mm) opening.
Truck and tower
In the U.S., the Diamondback is based on a 600-hp Peterbilt carrier, with PTO-powered drilling operations similar to an Atlas Copco TH60 setup. However, a tubular tower will be more familiar to Atlas Copco T2W operators. Globally the rig will be mounted to an appropriately sized carrier of the customer's operational location. The weight-to-strength ratio of tubular towers is superior to lattice designs. Its open design also leaves plenty of room at the deck to weld casing or work around pipe.
The driller's console pivots for good visibility of any operation taking place, even with the head slid to the right side for running casing, or while drilling at an angle.
The Diamondback rig's choice of 34- and 38-foot towers with optional sliding-angle masts can be set to drill at any angle from 90 degrees vertical to 45 degrees inclined, or raised and lowered in the vertical position to adjust the table height.
Featured upgrades
Optional side enclosures promote a sharp, professional look for water well drillers supplying customers with a source of clean drinking water. Catwalks are available for enhanced safety, especially for work in the oil and gas industry.
A ready-to-bolt-on breakout wrench is also available, which is adaptable for either Petol or hands-free use.
Hose management for the tower and deck was a prime focus on this project, grounded in over a thousand hours of engineering design and testing. Diamondback hosing runs alongside its deck, not through its centre, which greatly improves access to the hoses for servicing.
On-demand hydraulics have been improved over other market offerings with a simpler, more robust design.
A pivoting console was introduced to improve ergonomics of the driller's working environment. The pivoting console offers the driller good visibility of any operation taking place, even while casing or while drilling at an angle.
Alex Grant, Product Line Manager for Deep Hole Rigs within Atlas Copco Drilling Solutions, said the modular design of the Diamondback concept arose in response to the changing global market.
"We've all seen in recent years how contractors can find themselves suddenly needing to expand their drilling repertoire or even switching from one specialty to another. The Diamondback is the only rig on the market that allows owners to do that without intensive after-purchase modifications," Grant said.