Vermeer Forestry Tractor with Customizable Mulcher Attachment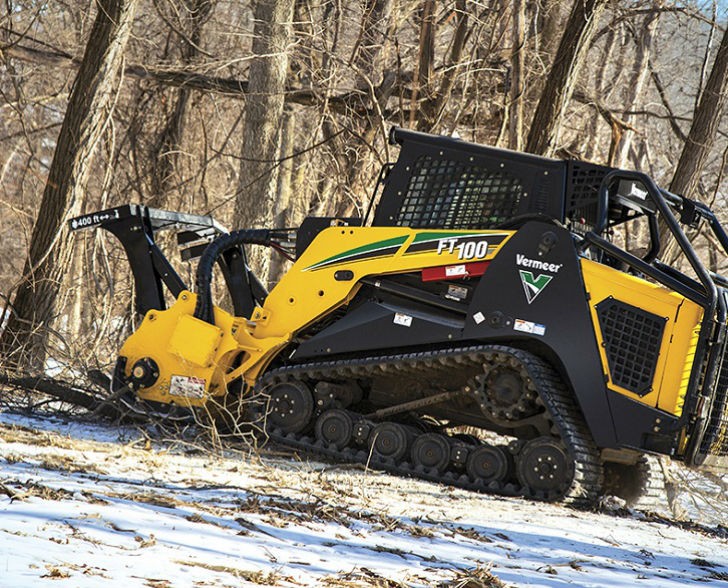 The Vermeer FT100 forestry tractor with above-ground mulcher attachment gives contractors a compact, yet powerful option for challenging land-clearing work.
The above-ground mulcher attachment puts the FT100 in another class compared with similar-sized forestry tractors on the market. The ringed rotor – 18 inches (45.7 cm) in diameter and equipped with 18 disks and 17 tip mounts – helps guide material into the cutting path for single-pass clearing and also controls the depth of the cut to maximize engine performance. The push bar provides a reach of 7 inches (17.8 cm) below grade with the head at ground level giving the operator better control when directing material to the rotor.
The rotor tips are interchangeable and come in sharp planar, clad-faced planar and impact-resistant tip options, allowing the operator to customize the cutting performance to the jobsite conditions without having to rebalance the drum each time.
The dual-bolt system used to retain the cutter tips requires less torque than single-bolt systems and can be torqued with a wrench small enough to be stored in the cab.
"The FT100 with mulcher attachment gives contractors a powerful tool for completing land-clearing jobs," said Jeff Bradley, product manager for the recycling and forestry segment at Vermeer. "It's great for residential work as well as for underground construction contractors clearing vegetation before installing utilities."
The FT100 comes with a 111-hp (82 kW) Perkins E3TA Tier 4i engine, providing high power in a small package. The hydraulic system optimizes horsepower to the mulcher attachment and also improves hydraulic component life by using a higher flow with less pressure.
Doors provide quick access to the engine compartment for maintenance. A programmable reversing fan can help remove debris from radiator and air intake screens.
With its torsion suspended track system, the FT100 runs comfortably, swiftly and robustly on the demanding terrain that land-clearing crews confront daily. Two independent torsion axles suspend each track frame plus four independent wheel carriages per track. The industry-leading 15 inches (38.1 cm) of ground clearance makes it even easier to travel over challenging terrain.
The operator will be better aware of what's happening in and around the machine with a display that provides machine performance data when working and a rearview camera with in-cab monitor that improves visibility and maneuverability.