XL Specialized Trailers Introduces XL 120 Low-Profile HDG Construction Trailer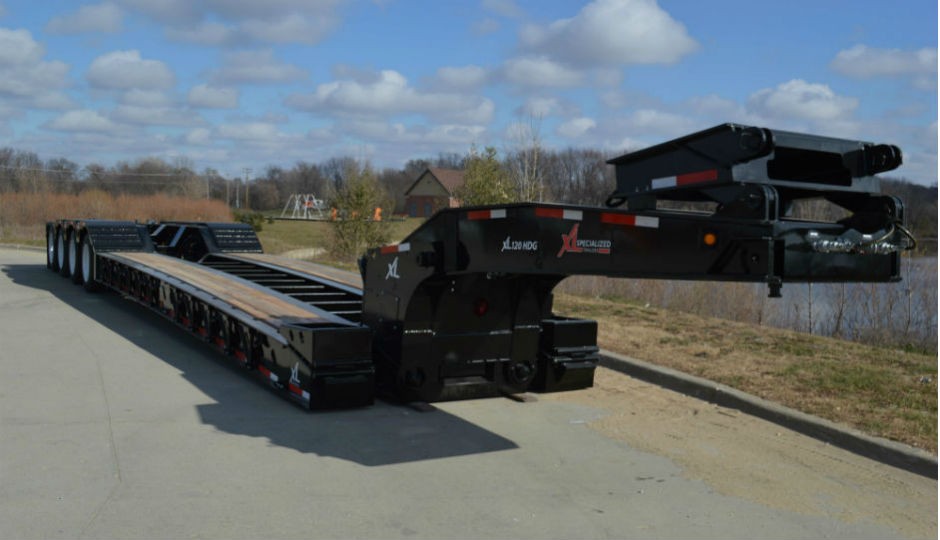 XL Specialized Trailers has introduced the XL 120 Low-Profile Hydraulic Detachable Gooseneck (HDG), the newest addition to their construction equipment hauling line. This model is rated at 110,000 pounds in 10 feet and 120,000 pounds in 16 feet in the center of the deck. Engineered for heavier construction equipment, this model is designed with user-friendly features and the superior reliability that XL Specialized Trailers are known for.
The newly designed trailer features a low-profile neck construction that contractors need to load their equipment over the neck. The 13-foot long gooseneck has a 36-inch long flip neck attachment for use with a four-axle truck. This set-up offers a 146-inch swing clearance, allowing weight to be distributed to the steer axle of the truck. The five-position variable ride height allows users to adjust the neck height to fit their various loads.
The XL 120 Low-Profile HDG comes in the standard 53 foot overall length, or a 55 foot version for even longer loads. With 54-½ inch axle spacing, the 53-foot long trailer has a main deck that offers a full 26 feet in the well and 60-inch axle spacing is also available. The main deck is constructed with four 16-inch tall, fully-cambered I-beams connected with 10-inch and 4-inch stubbed junior I-beams on 12-inch alternating centers for maximum strength, as well as 24-inch loaded deck height with 8 inches of ground clearance. The trailer also features standard 31-inch front flip ramps, 7 bent D-rings and 12 chain drops per side, and heavy-duty swing-out outriggers on 24-inch centers to combine for a completely equipped main deck, ready for any piece of equipment.
The last three cross members in the main deck are recessed to make a bucket well for the bucket of an excavator to sit low in without damaging the cylinder while the open boom trough in the rear bridge provides a place for the arm to ride safely. The 32 degree rear bridge transition features traction aids for loading. The rear deck is prepped for a 2-axle booster, resulting in an extremely flexible trailer, allowing for more varied loads that are able to go through more areas. The 3-axle trailer can be set up as a straight 4-axle using a pin-on or as a 3 + 2 using a spreader bar with two axles at the end.
"This new XL 120 Low-Profile HDG is an important addition to our construction line-up for many reasons," said Rodney Crim, Vice President of Sales at XL Specialized Trailers. "Our customers needed a model for their heavier equipment, and with ratings of 120,000 pounds in 16-feet or 110,000 pounds in 10-feet, we have achieved that; and adding many features to the standard unit makes the XL 120 HDG a very user-friendly solution in the marketplace."