First i-MiEV for police delivered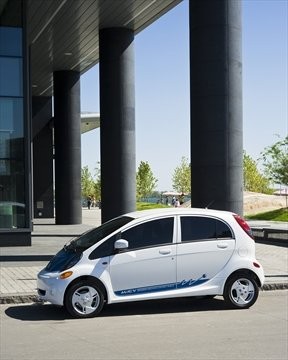 The first 2012 Mitsubishi i-MiEV pure electric hatchback purchased by a Canadian police force has arrived in Saanich. The Vancouver Island city took delivery of Canada's most fuel efficient subcompact last month and has assigned the five-door, four-seat Mitsubishi i-MiEV to community and administrative work within the Saanich district.

Saanich Police join a geographic cross-section of Canadian customers, including the city of Calgary, Saskatchewan's SaskPower and Hydro-Québec, to have purchased the pure electric, zero tail-pipe emission new i-MiEV. Far from a fleet vehicle, most i-MiEV sales have been to consumers. To date, Mitsubishi Motor Sales of Canada (MMSCAN) has named 30 certified i-MiEV dealerships and expects that number to grow in 2012.

"The Saanich Police Department was very motivated to demonstrate ecological responsibility in our district and the Mitsubishi i-MiEV was a great choice," said Mark Chadwick, chief constable, Saanich Police Department. "We expect to utilize the Mitsubishi i-MiEV throughout our community, whether for court liaison or other ancillary purposes in our law enforcement efforts," he added.

The District of Saanich, along with the Town of Qualicum Beach, is a member of Green Fleet B.C. Both municipalities, and the city of Vancouver and B.C. Hydro, have partnered with MMSCAN in determining i-MiEV's role in reducing the province's carbon footprint.

The Mitsubishi i-MiEV is a five-door, 4-passenger, subcompact hatchback with a range of up to 155 km. In the forefront of advanced, electric-vehicle technology, i-MiEV has already earned kudos in Canada and beyond:
• The Mitsubishi i-MiEV was named the most fuel-efficient subcompact car sold in Canada by Natural Resources Canada.
• The Mitsubishi i-MiEV is the "greenest car in the United States", a designation from the American Council for an Energy-Efficient Economy.
• The Mitsubishi i-MiEV was nominated for a World Green Car Awards, one of the world's most prestigious, credible and significant programs of its kind, administered by a non-profit association.