Latest Evolution Terex Trucks Generation 9 Articulated Haulers Debut At Intermat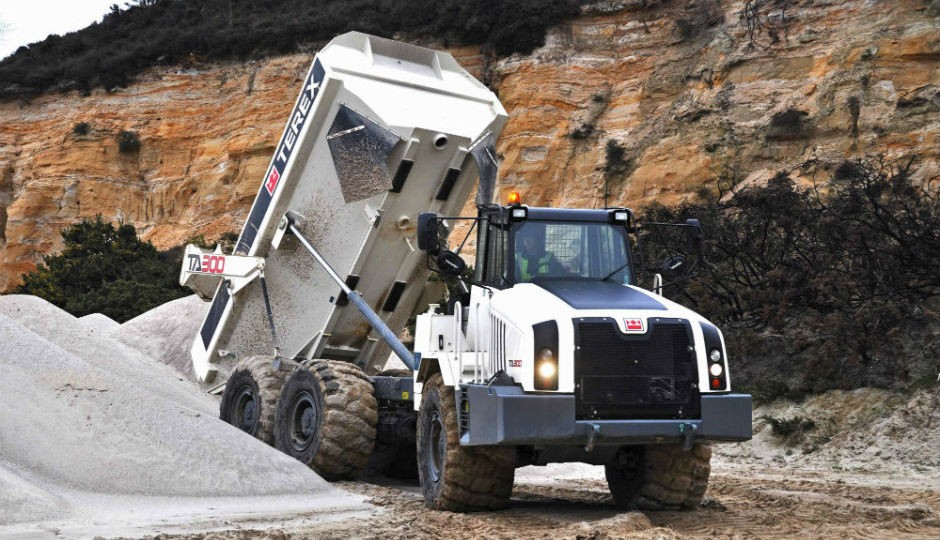 Terex Trucks' first appearance at international trade show, Intermat 2015, has played host to the European debut of the latest evolution articulated dump trucks, the 28 tonne TA300, and 38 tonne TA400. The new models showcase the truck manufacturer's latest range of Euro Stage 4/Tier 4 Final-compliant, fuel efficient models, now available in Europe.
Designed to increase productivity and profitability, Terex Trucks' latest evolution of Generation 9 TA300 and TA400 are powered by Scania engines, renowned for high uptime and reliability, proven fuel efficiency and ease of maintenance. They are fitted with the latest generation Selective Catalytic Reduction (SCR) technology combined with Exhaust Gas Regeneration (EGR) technology and a Variable Geometry Turbo (VGT). The combination of EGR, coupled with the Diesel Oxidisation Catalyst (DOC), increases the efficiency of the SCR process, allowing Terex Trucks to meet European emissions regulations.
Introduced in the latest Generation 9 dump trucks is the CAN-controlled engine exhaust brake. This provides improved reaction and performance of the exhaust brake retardation and higher efficiency of Euro Stage 4 after-treatment requirements, resulting in greater operator control of braking in downhill applications, further improving safety.
Fully independent front suspension comes as standard in the TA300 and as an option in the TA250, enhancing truck operator comfort and ride quality. This innovative design enables improved productivity and stability in rough terrain environments. The bogie beam rear suspension system is also fitted on all Terex Trucks articulated dump trucks, improving ride quality and ensuring minimal maintenance, therefore reducing downtime.
The Terex Trucks TA300 is a proven performer in tough applications and is fitted with an independent front suspension system, an improved powershift transmission and a hydrodynamic retarder for more control during descents. The six forward/three reverse transmission provides a maximum forward speed of 32mph (50km/h) and 19mph (30km/h) in reverse.
Daily checks have also been simplified, thanks to ground-level inspection points, making it easily accessible for technicians.
The TA400 is the highest capacity machine in the Terex Trucks articulated hauler range and delivers a heavy-duty, efficient performance in all conditions. Both versatile and robust, it is built to meet the demands of most extreme operations, from quarries to mining.
The TA400 is now equipped with the latest generation of transmission controls that incorporate adaptive shift schedules for consistent smooth shifting on all haul conditions. As a result, machine momentum is maintained and productivity increased, while operational costs are lowered thanks to efficient fuel consumption.
Machine downtime is reduced with on-board prognosis for preventative maintenance and minimal service intervention time.
A six-stage modulating transmission retarder enables safe downhill speed and preserves the life of the primary service brakes. The TA400 transmission is also installed with the latest lubrication oil specification that extends oil service periods to 6,000 hours, further reducing operational costs.