Skyjack's New Telescopic Booms Offer Higher Capacity and Greater Reach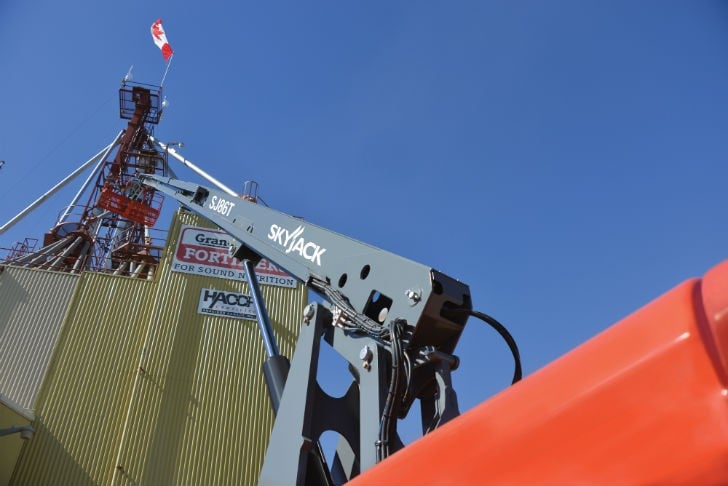 Skyjack Division recently introduced the largest telescopic boom in its current range to European customers at this year's Intermat, the triennial exhibition for the construction and material industries, held in Paris, France.
The new addition to the range — the SJ86 T — expands Skyjack's telescopic offering and boasts an impressive working height and horizontal reach, as well as competitive high capacity zones. The new model is the latest in a line of boom products Skyjack has brought to market in recent years. The SJ86 T represents a milestone as a 'much asked for' addition to the range. It also helps meet increasing customer demand in the European rental industry with their higher capacity and greater reach:
The SJ86 T telescopic boom with jib features a working height of 28.21 m and horizontal outreach of 23.42 m. The jib has a range of +65 degrees to -60 degrees and features optimized designs that improve its strength.
Dual-capacity ratings
A key feature of the SJ86 T is the product's impressive dual capacity capabilities. With a two to three person capacity rating that increases productivity, the SJ86 T makes a great addition to any fleet. This latest telescopic boom lift also provides an unrestricted platform capacity of 227 kg and a restricted capacity of 341 kg. In addition, the SJ86 T telescopic boom with jib features a working height of 28.21 m and horizontal outreach of 23.42 m. The default is restricted capacity. Lights on the control boxes on the base and platform indicate which zone the operator can be in. Once the platform reaches the restricted area, the amber light flashes to notify the operator that they have reached the limit of the restricted area. The operator must then switch the toggle to the restricted capacity before moving into that zone.
Durable design
This telescopic boom is specially designed to offer customers low lifecycle costs, as well as a greater return on their investment. The SJ86 T also shares components with other Skyjack models – including the axels, relay-based control system, fiberglass cowlings and modular platform railings. "Fewer parts, simple coding systems and the commonality of components across Skyjack's range is proving very popular with end users," said Brad Boehler, Skyjack president. "The common parts approach, which we've also introduced in the SJ86 T, reduces customer costs, service training and maintenance time. Using 'off-the-shelf' parts, as oppose to custom designs, means that replacing and repairing components is easy and cost effective." All Skyjack machines are designed around the company's Simply Reliable philosophy. Troubleshooting and maintenance are made easy through the use of Skyjack's colour coded and numbered wiring system — SKYCODED. In addition, using an analogue-based control system allows Skyjack aerial work platforms (AWP) to operate using a simplified system, ensuring less maintenance and lower costs.