Soilmec Displays Advanced Technology at IFCEE 2015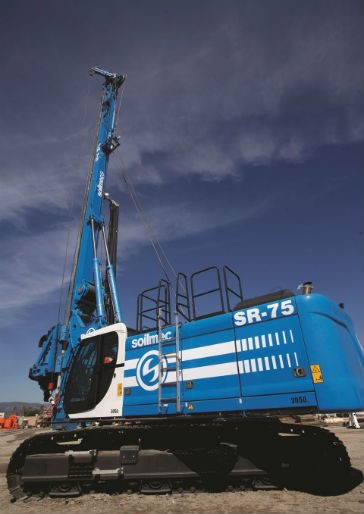 Soilmec will be showing several next-generation, multifunctional rotary drill rigs at the International Foundations Congress and Equipment Expo – the SR-75 and SR-45, and two micro-drilling rigs, the SM-17 and SM-4.
The new generation of drill rigs offer decreased fuel consumption and more power with the Tier 4 engine; superb rig control and remote monitoring with the new Drilling Mate System (DMS Wi-Fi); greater stability and depth capability with the integrated redesign of the mast, rotary, Kelly and parallelogram; improved operator comfort and control with the redesigned cab with ergonomic controls; and easier transportation with the lower rig weight. These versatile rigs can be used for traditional drilled pile construction (cased or uncased), as well as fit with advanced "kits" of various combinations of ancillary components.
The rigs can be used to perform large diameter bored piling; continuous flight auger piling by means of a longer auger string; cased auger piling with a double independent rotary system; displacement piling with the new traction compacting tool (TCT); and turbojet soil consolidation. They can also be fit with a short mast for large diameter piling under low-headroom conditions.
One of the highlights at IFCEE will be a Soilmec SR-75 multifunctional rig fit with the new traction compacting tool. Unlike standard displacement piling that displaces soil during downward penetration, TCT's displacement process mainly occurs during the tool extraction phase. This means that smaller-sized drill rigs can drive the tool, since drill rigs typically have a higher extraction force capacity than pull-down force. TCT displacement piling can be performed with any Soilmec SR or SF rig.
Soilmec will also feature their new multipurpose rigs engineered to execute micropiles, tiebacks, anchors, jetgrouting and mini-piles, including their smallest drilling rig yet: the new SM-4. The SM-4 is specifically designed for very restricted access and space, with compact dimensions, retracting crawlers, and telescopic low-height mast.