Grove Unveils GHC Telescoping Crawler Cranes in Dramatic Fashion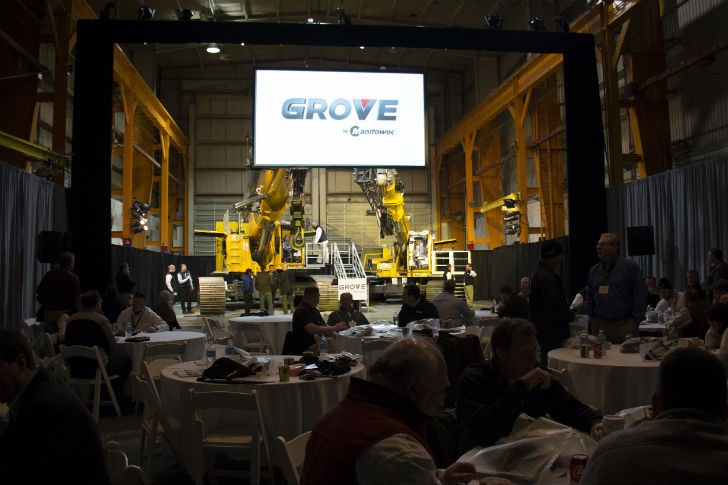 Manitowoc unveiled the new GHC series of telescoping crawler cranes during a launch event at its Shady Grove factory in March. Playing host to dealers and customers from North America, the company showed off the new Grove cranes with a dramatic curtain drop and live demonstration of their capabilities.
All three cranes in the series were shown at the event: The 55 USt (50 t) GHC55, the 77 USt (70 t) GHC75 and the 132 USt (120 t) GHC130. The GHC cranes will be distributed exclusively by Grove in the Americas as a result of an exclusive partnership with Sennebogen Maschinenfabrik, whose leadership was also on hand for the launch event.
The event's attendees arrived in Shady Grove on the morning of March 5 and were taken to Manitowoc's R&D facility – only the space had been turned into an event venue, complete with a full audio and video setup that included lights, music and projection screens.
Dave Hull, senior vice president global sales and marketing at Manitowoc Cranes, addressed the crowd and reiterated the cranes' unique features.
"From time to time, we look beyond our traditional borders to re-evaluate our portfolio to ensure we are offering our customers a complete line of lifting options to suit their needs," Hull said. "It's with this in mind that we are introducing to you the new Grove GHC Telecrawler series, which we know will find plenty of use in North and Latin America, from utility projects to construction and everything in between."
Following the speeches and a short video on the GHC series, drums rolled before the curtain that served as the stage's backdrop fell to the floor, revealing the cranes. Under full stage lights, the GHC55 and the GHC130 were unveiled, allowing customers to see the cranes up close.
Following the unveiling, the event moved outside and into the snow, where a full demonstration of the GHC75 was given to attendees. Of particular note were the crane's maneuverability features, including skid steering and counter-rotation. The crane also demonstrated its 100% pick and carry capability on up to 4 degrees of incline. These benefits, along with the ability to fully telescope a load with the robust full power boom, are a few of the series' most productive features.
Each of the GHC cranes include load charts for level, and load charts for both 2 degrees and 4 degrees out of level, providing excellent versatility for varying job site conditions.
John Bair, product manager for Grove telescoping crawler cranes, played MC for the demonstration, explaining in detail the crane's features, which also include a Tier 4 Final-compliant Cummins engine, optional pole claw, auger and personnel basket attachments, and efficient transportability and self-rigging capabilities. After the demonstration, several of the dealers and operators in attendance manned the crane's controls trying out the GHC75 for themselves.
All of the Grove dealers at the event expressed interest in the GHC series for both sales and rental applications. Many reported that the versatility of these cranes would make them ideal for many of their customers' applications.
David O'Connell, president of Shawmut Equipment, a Manitowoc dealer, said his company would be stocking the new crane series pointing out the markets and applications that the cranes would serve well.
"We expect that companies working in the utility, bridge-building and marine industries are going to find considerable use for these cranes," he explained. "This is because of the quick setup times, the 100% pick and carry capacities, the cranes' full 360-degree swing capabilities, and because the GHC series cranes can still pick a load when not completely level."
Following the demonstrations, event attendees celebrated with a catered lunch and networking time before heading back to help spread word of the new GHC series throughout North America.
Grove GHC Series
The Grove GHC55 has a 55 USt (50 t) capacity and 100 ft (30.4 m) main boom length. The total crane length with boom retracted is just 35 ft 3 in (10.7 m) and the crane's retracted width is 11 ft 6 in (3.5 m) – its overall height is 10 ft 8 in (3.2 m).
The Grove GHC75 has a 77 USt (70 t) capacity and 118 ft (36 m) main boom length. The total crane length with boom retracted measures just 42 ft 6 in (13 m) and the crane's retracted width is 10 ft 6 in (3.2 m) – its overall height is 10 ft 5 in (3.2 m).
The Grove GHC130 has a 132 USt (120 t) capacity and 131 ft 11 in (40.2 m) main boom length. The total crane length with boom retracted measures just 50 ft 4 in (15.3 m) and the crane's retracted width is 12 ft 11 in (3.9 m) – its overall height is 13 ft (4 m).
All three cranes feature Tier 4 Final-compliant Cummins engines.
Company info
Related products
More from Cranes & Lift
The all-new CASE TR340B compact track loader — operating at 90 horsepower with a 3,400-pound rated operating capacity — is the most powerful radial-lift CTL in the CASE lineup. Its all-new 8-inch LCD display improves on industry-leading CASE visibility with a new backup camera that is viewable in both forward and reverse operation. The display also showcases critical operating information and "trip" details. All-new electro-hydraulic controls, managed through the display, make it easier than ever for operators to dial CASE CTLs into specific application demands. All new cab controls and joysticks make the new TR340B easy to own and operate.
Industries such as construction, mining, energy, utilities and forestry, face many challenges when it comes to tracking assets and employees. Equipment often has to be transferred between locations, or monitored while it is dormant during off seasons. Lone workers may have to travel long distances or visit multiple sites during the course of their activities. And, all of this is further complicated today with shifting supply chains and economic realities putting further strain on the bottom line.