Atlas Copco Launches New Dynapac CP1200 Pneumatic Tired Roller During Dealer Event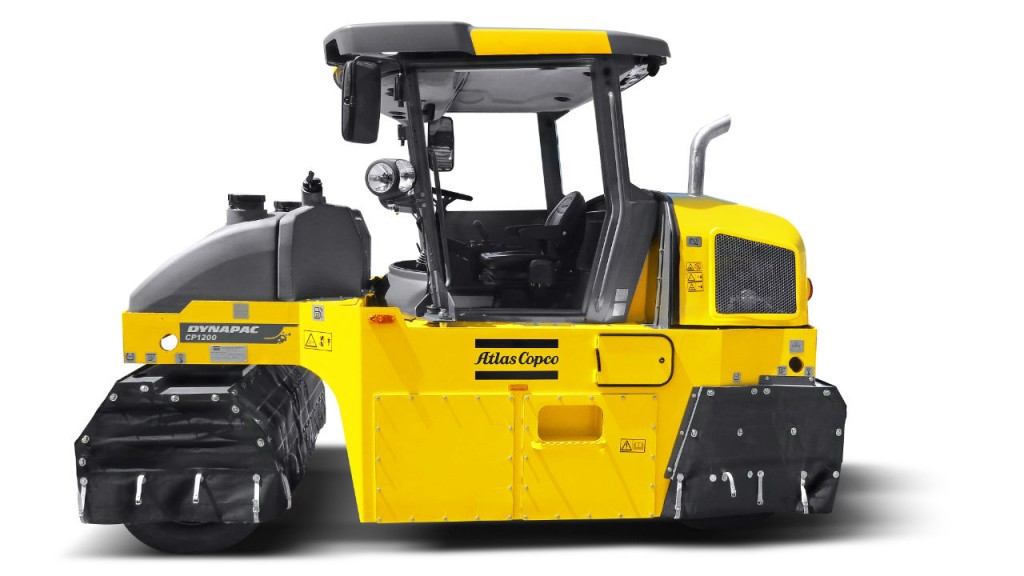 Atlas Copco's new Dynapac CP1200 pneumatic tired roller enhances efficiency, serviceability, safety and operator comfort, and achieves optimal compaction results. The roller's new flexible steel ballast is distributed evenly between tires for consistent ground pressure between the front and rear tires. This also allows the weight to be easily adjusted for optimal performance in any application – from finishing to sealing.
The roller includes a Tier 4 Final compliant engine that meets the latest Environmental Protection Agency emission standards. The Tier 4 Final engine reduces 90 percent of particulate matter and 90 percent of Nitrous Oxide Emission (NOx) compared to a Tier 3 engine. The engine produces low levels of ambient noise thanks to thermostatically controlled cooling fans, which allow the operator to easily communicate with crews using a walkie-talkie. In addition, minimal engine noise lessens the risk of hearing damage for the operator. The CP1200 also is equipped with an ultra-smooth start/stop system so contractors can quickly and easily changes directions.
The platform on the CP1200 is spacious and features operator-friendly controls and a swivel seat for optimal visibility from the operator station. This allows the operator to comfortably move from one side of the roller to the other to maintain optimal visibility and avoid having to strain his or her neck to get a clear view of the drum edge. It also gives operators the confidence to work faster. The unit also can be equipped with a cab with Automatic Climate Control, which automatically adjusts the temperature for operator comfort.
Atlas Copco designed the CP1200 with its exclusive dual-circuit braking system that maintains full braking effect even if one circuit is disabled. This feature is critical for projects on inclined surfaces as it safeguards against damage and injuries.
The CP1200 has a compacting width of 5.77 feet and maximum operating weight of 26,400 pounds, which makes it ideal for a variety of applications from finishing to sealing. An optional DCA-A compaction analyzer records the rolling activity and recommends the optimum number of passes based on type of material being compacted, density needed and hours of operation. In addition to achieving the ideal density more quickly, the DCA-A analyzer also records the rolling patterns for analysis and quality assurance.
With an optional air-on-the-run system, operators can adjust the tire pressure during the compaction process, which minimizes downtime. The new heat cover wheel also improves compaction results.