Manitou M 40 Rough Terrain Vertical Masted Forklift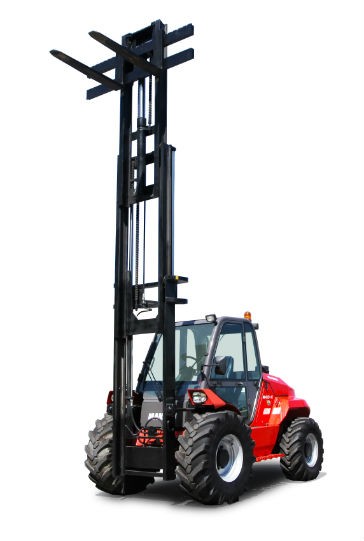 Manitou, has introduced the all-new, Tier IV-certified, M 40 Rough Terrain Vertical-Masted Forklift for North America. Built to operate with bulk loads on uneven ground, the all-new M 40 has a maximum lift height of 19'6" and a maximum loading capacity of 8,179 lbs. (3710 kg). This new machine will be available in 2-wheel and 4-wheel drive with increased visibility and ergonomics, improved fuel economy, mast customization options, and a sleek, curved body style.
Powered by a 74 hp (55 kW) Perkins Tier IV-certified diesel engine, delivering up to 235 ft.-lbs. (318 Nm) of torque, the all-new M 40 is well-equipped for rough terrain performance. Fuel consumption is reduced by 13% with the new Tier IV engine, achieving up to 21,730 lbs. (9,666 daN) of tractive effort.
The M 40 Rough Terrain Vertical Masted Forklift is known for its maneuverability. The rugged, robust design and high ground clearance allow the truck to travel easily over rough and loose terrain. The load accumulator is standard equipment and prevents shock and vibration from affecting the load for safe transport over bumpy, uneven surfaces. An oscillating rear axle and wide stance of the front tires ensure the machine is stable in adverse conditions. The overall compact dimensions of the machine and short turning radius also make it possible to navigate in areas where space is confined.
The all-new M 40 adds a hydrostatic transmission option for all 2-wheel drive M Series models, creating two transmission choices; torque converter or hydrostatic. An option to select the hydrostatic transmission for 4-wheel drive models is planned for the first half of 2015.
Multiple mast configurations are designed to deliver optimal strength and rigidity while maintaining excellent operator visibility. The new side-shift mast and existing side-shift carriage options provide new enhancements to the M Series product line, with the introduction of the all-new M 40. The side shift mast is designed with one shaft for smoother shifting, moving the mast 3" to the left and 3" to the right. The side shift carriage will add additional hoses, but will shift 4" in either direction. The M 40 can be selected with a 2-stage full visibility or a 3-stage free lift mast design, offered with a variety of mast sizes. The mast of the all-new M 40 will also tilt up to 15°forward and backward for precise material handling in diverse applications.
Visibility, comfort, functionality and adjustability are features that are readily found in the cab of the all-new M 40. A low, extra-wide entrance is provided with two non-slip steps on both sides of the machine. Doors can be locked in the open position to allow for extra ventilation and accessibility. Shock absorbing bushings suspend the cab on the frame to provide a smooth ride when traveling over rough terrain areas. An adjustable suspension seat is standard and a fully adjustable pneumatic suspension seat is optional. The enclosed cab option with heat and/or air conditioning ensures comfort in all weather conditions.
The controls are placed to the right of the operator's seat for easy, fatigue-free access. Panoramic visibility is achieved from the operator's station due to the curved frame shape, narrow mast channels, low dash, and large, open overhead guard structure. Oversized mirrors and front and rear work lights further enhance operator visibility.
To ensure proper routine maintenance and serviceability, the all-new M 40 is designed to allow easy access to major operational components. The large engine hood lifts out of the way with removable side panels for quicker routing maintenance checks. The cab also tilts forward to allow full-service access, including the transmission and hydraulic components.
The all-new Tier IV certified M 40 Rough Terrain Vertical Masted Forklift is available in North America. This machine is tailored for use in housing, general construction, building material supply, agriculture, rental, forestry, and the oil and gas industry due to their rugged, rough terrain design.
"The all-new M 40 completes the Tier IV transition for the Manitou M Series Rough Terrain Vertical-Masted Forklift product line," said Brain Rabe, Senior Product Manager of Forklifts at Manitou Americas, Inc. "The new middle model between the M 30 and M 50 also brings the return of the side shift masts and hydrostatic transmission options, making the Manitou M Series the most adaptable handling forklift in North America. The smooth shifting side-shift mast/carriage options and customization of mast sizes allow these machines to operate in very diverse applications. The addition of the all-new M 40 creates more diversity, adding a full-selection of lifting capabilities for the M Series, while offering durability, all-terrain maneuverability, and low routine maintenance that these machines are known for."