Manitou M Series Vertical Masted Forklifts now equipped with Tier IV certified engines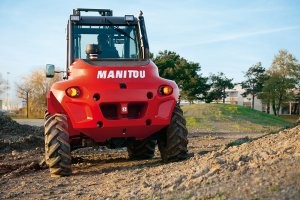 Manitou is pleased to announce the introduction of two new, Tier IV-certified models to round-out the M Series Rough Terrain Vertical Masted Forklift range for North America. The Tier IV-certified M 30 and M 50 models, available in 2-wheel and 4-wheel drive, provide increased visibility and ergonomics, improved fuel economy, and sleek, modern body lines.
Impressive lift heights up to 23' (7 m) on the M 30 and 19'8" (6 m) on the M 50 allow operators to stack loads at high heights. Lift capacities from 6,063 lbs. (2,750 kg) on the M 30 and 11,023 lbs. (5,000 kg) on the M 50 mean large loads can be picked, transported and placed with ease.
Equipped with a 74 hp (55kW) Perkins Tier IV-certified diesel engine that delivers up to 235 ft.-lbs (318 Nm) of torque, these machines are prepared to tackle virtually any job. Achieve up to 22,976 lbs (10,220 daN) of tractive effort on the M 50 for excellent rough terrain capabilities. The efficient, Tier IV-certified engines provide an estimated 13% reduction in fuel consumption. Equipped with a torque converter transmission and four drive gears, these machines excel in rough terrain applications.
The specially designed mast is available in multiple configurations to meet the specific needs of each customer. The strong, rigid design provides optimal vertical and lateral strength while the narrow channels enhance operator visibility to the front of the truck. The mast tilts up to 15 degrees (M 50) forward and backward for precise material handling. A variety of carriage options are available to suit jobsite needs.
The M Series rough terrain vertical masted forklifts are masters of maneuverability. Their rugged, robust design and high ground clearance allow them to travel over rough, loose terrain with ease. The load accumulator is standard equipment and prevents shock and vibration from affecting the load for safe transport over rough, uneven surfaces. An oscillating rear axle and wide spaced front tires ensure the machine is stable in adverse conditions. The compact overall machine dimensions and short turning radii allow the machine to navigate tight areas with ease.
Visibility, comfort, functionality and adjustability are features that are easily found in the cab of the M Series forklifts. A low, extra-wide, two-step entry is provided for easy entry and exit.
Shock absorbing bushings suspend the cab on the frame to provide a smooth ride when traveling over rough terrain. An adjustable suspension seat is standard and a fully adjustable pneumatic suspension seat is optional. The enclosed cab option with heat and optional air conditioning ensure comfort in all weather conditions.
The controls are placed to the right of the operator's seat for easy, fatigue-free access. Panoramic visibility is achieved from the operator's station due to the curved frame shape, narrow mast channels, low dash and large, open overhead guard structure. Oversized mirrors and front and rear work lights further enhance operator visibility.
To ensure proper routine maintenance, the M Series rough terrain forklifts are designed to allow easy access to major operational components. The large engine hood opening, forward tilting cab and front access panels allow easy access to routine maintenance points.
The Tier IV certified M Series rough terrain vertical masted forklifts are available in North America. These machines are tailored for use in, housing, general construction, building material supply, agriculture, rental, forestry, oil and gas industries due to their rugged, rough terrain design.
"The Tier IV M Series rough terrain vertical masted forklifts fulfill the need for emissions certified rough terrain machinery in the North American market," says Brad Ramsour, Regional Sales Manager. "These machines are especially appealing to rental markets due to their ease of operation and durable components."