Canadians Finish in 1st and 3rd as Wacker Neuson crowns 2015 TROWEL Champions at World of Concrete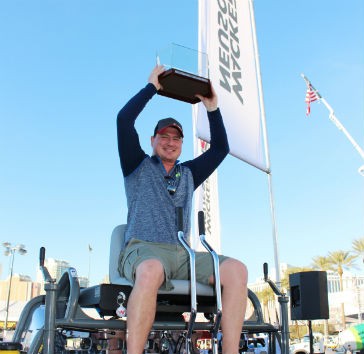 Perfect weather conditions and large crowds made for an exciting finish at Wacker Neuson's seventh annual Trowel Challenge competition at the 2015 World of Concrete. Each year, Wacker Neuson's high speed trowel challenge draws fans to watch finishers from around the world race for the grand prize, a custom 48-inch CRT 48-35V ride-on trowel powered by a special Vanguard BIG BLOCK V-twin engine. The top three finishers receive a custom laser cut ride-on trowel trophy.
Preliminary competitions were held the first three days of the annual concrete trade show. The contestants with the top 10 fastest times from the preliminaries advanced to the finals on Thursday, February 5, 2015. The top 10 finalist each had one run through the course and that time was added to their preliminary time. It is always a close race and once again, less than one second separated the first place and third place finisher.
FIRST PLACE
Greg Geiger, On Demand Concrete Solutions, Warburg, Alberta Canada
Winning combined time: 53.494. Geiger came to win. He was the second place finisher in the 2014 competition. This year, he came into the finals in first place with an initial qualifying time of 26.723. He maintained his lead and took home the grand prize with a final run time of 26.771. On Demand Concrete Solutions will receive the grand prize CRT 48-35V and Geiger took home the gold painted scaled trophy and bragging rights that he is the fastest finisher for 2015. "It feels pretty amazing," Geiger said. "It means a great deal to me in the form of a sense of accomplishment and pride that comes with that. I am extremely grateful that I achieved the win this year, especially after last year's second place."
Geiger is the owner of On Demand Concrete Solutions. The company specializes in large commercial and industrial concrete flatwork, from oil and gas industry to commercial warehouses. They currently own three Wacker Neuson ride-on trowels, rammers and wet screeds. Geiger said "We will be using the swanky new rider on a variety of our large jobs."
SECOND PLACE
Timo Herrala, SSTH-Lattiat, Tampere, Finland
Combined run time: 54.040. Herrala traveled a long way to participate in this year's challenge. He came into the finals in second place with a qualifying time of 26.997. His final run time of 27.043 kept in the second place spot taking home the silver ride-on trowel trophy.
THIRD PLACE
Kent Goossen, HD Concrete, Rosenort, Manitoba, Canada
Combined run time: 54.367. Goossen is familiar with the Wacker Neuson trowel challenging having captured third place in 2013. This year, Goossen came into the finals in fifth place with a qualifying time of 27.591 and moved up two spots with his final run time of 26.776. He took home the bronze ride-on trowel trophy.
Besides the annual trowel challenge, Wacker Neuson's World of Concrete booth offered contractors the opportunity to operate two new ride-on trowels. A new 10-foot, CRT 60-74L, that is powered by a more powerful Tier 4 final engine and offers a heavy-duty cooling system that significantly improves performance and the life of the machine. A new 8-foot model, the CRT 48-57K-PS is a new higher horsepower gasoline model that was developed for the professional concrete finisher.