Increased Productivity with the New Husqvarna PG 820 RC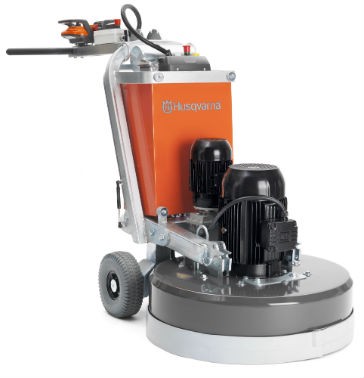 Husqvarna has launched a new remote-controlled floor grinder. The PG 820 RC offers very high productivity, powerful performance, and outstanding ergonomics. It is easy to transport to and from the job site thanks to its long battery life.
"With this new machine, Husqvarna has taken yet another progressive step within the floor grinder segment. The remote control allows the operator freedom to move around the job site along with full maneuverability of the machine. In turn, this leads to increased productivity," says Joakim Leff-Hallstein, Global Product Manager for Surface Preparation.
The increased productivity derives from more machine hours per day, as the operator can correct hoses and power cord, move the dust collector, inspect the floor, and prepare the next set of tools - all while the machine is still running and executing the job.
The remote control unit also offers the possibility to optimize the grinding parameters and to assure quality for a specific application. This control enables consistent operation and results even when changing the operator.
The PG 820 RC also comes with outstanding ergonomic advantages, again thanks to the remote control. The operator is not exposed to the vibrations and sideways forces on the machine; therefore, the operator does not feel fatigued. Additionally, the integrated battery power makes transportation effortless.
"The remote control simplifies operation and, in the long run, the gain is increased productivity and profit. It's a win-win situation," says Leff-Hallstein.
Of course the PG 820 RC comes with all the advantages of the already existing, best in its class, PG 820. With Dual Drive Technology, the PG 820 RC is one of the market's most powerful and efficient machines that can be optimized for each application. It is an excellent choice for concrete floor preparation and repair as well as all polishing and grinding applications - both wet and dry. It is also perfect for the HiPERFLOOR concrete floor polishing system.
Company info
Related products