Cushman Introduces the First EFI Gasoline Hauler 4x4 UTV in Lineup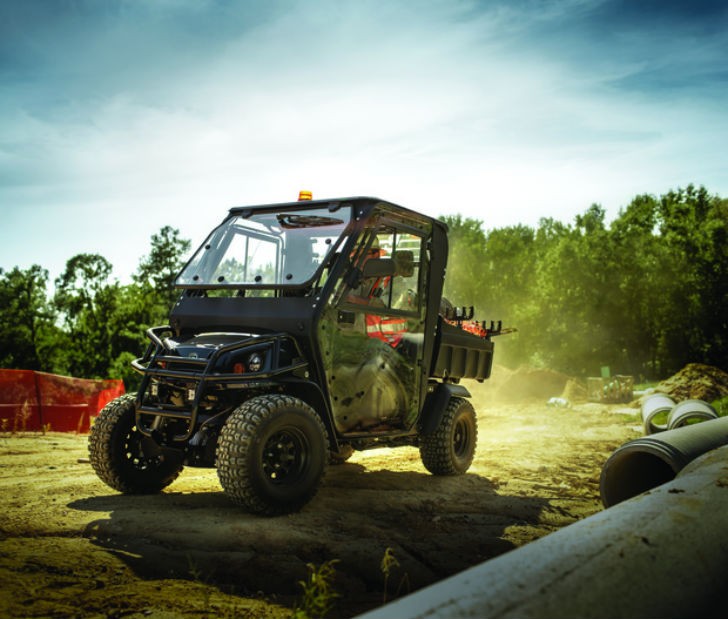 Cushman has introduced the Hauler 4x4 utility vehicle, Cushman's first EFI gasoline and 4x4 option in the Hauler UTV lineup. The new 4x4 has the power and capacity to tackle the toughest jobs on the worksite, while also delivering excellent fuel economy thanks to electronic fuel injection technology.
Hamish Lusty, vice president of commercial business, said, "We are incredibly excited to unveil the new Cushman Hauler 4x4 as part of our Hauler UTV lineup. The 4x4 answers the call for better fuel efficiency without sacrificing power and torque needed for rugged tasks."
Driven by a 720cc, 28-hp Subaru EFI gasoline engine, the two-passenger Hauler 4x4 offers power and performance while also maximizing fuel efficiency, helping to get jobs done faster and easier and saving on fuel costs. It also features an industry-leading 800-pound cargo capacity and provides up to 1,200 pounds of total vehicle payload, making it ideal for light maintenance to heavy-duty applications and everything in between.
The Hauler 4x4 easily handles the heaviest jobs with user-selectable four-wheel drive, allowing the operator to adjust the power when extra maneuverability is needed. Best-in-class, fully independent suspension ensures a smooth ride even loaded down over rough terrain. Additionally, the 4x4 has a 25 mph max speed and a range of more than 100 miles, making it ideal on large jobsites or for long days of use.
Safety features, including three-point seat belts, a rollover protection system (ROPS) and full-load braking, come standard on the Hauler 4x4, reflecting Cushman's commitment to vehicle and jobsite safety. ROPS provides full rollover protection and helps absorb the impact during an accidental rollover.
Additional options and accessories include mud tires, a brushed or black aluminum cargo bed, LED headlights, windshield options, work light kits, hard or soft cabs and side mirrors.