Multiquip Introduces Drum Extensions for MQ RAMMAX 1575 Trench Roller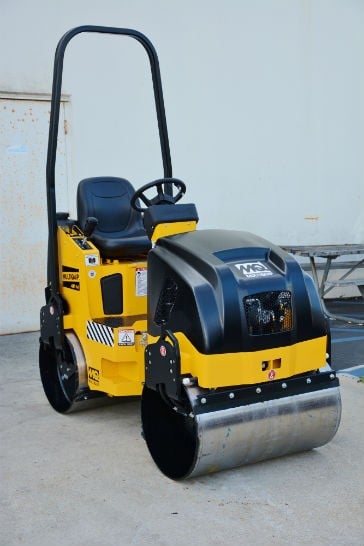 Multiquip has announced it's MQ RAMMAX 1575 articulated trench roller is now available with removable drum extensions.
"Our customers have told us the MQ Rammax RX1575 offers superior performance and productivity," said Torsten Erbel, the vice president for product management, engineering and support, for Multiquip. "We improved the roller by adding an option for drum extensions in addition to our standard 24" and 33" drum options." The remote controlled RX1575 delivers the compaction performance that contractors expect from MQ Rammax products. The roller has two vibration settings; high, producing 16,860 pounds of centrifugal force, and low, producing 8,430 pounds. This enables the operator to adapt performance to suit the job's soil and lift conditions.
Powered by a fuel efficient Yanmar diesel engine, it consumes up to 50% less fuel than other leading competitors. Known for its reliability, the engine delivers reliable starting and performance.
Maintaining the MQ RAMMAX 1575 is simplified by a maintenance free articulation joint. Service technicians will appreciate the front and rear gull wing style covers that open to 90 degrees to provide easy access to all service points.
Multiquip backs up the MQ RAMMAX RX1575 with an industry best 5-3-2 warranty; five years on bearings, drive motor and eccentric housing assemblies, three years on the Yanmar engine, and two years on basic machine, parts and labor.
Multiquip is also set to introduce the all new AR14H vibratory roller. Designed to deliver the best performance, production and value, the roller is equipped with a number of new features designed to appeal to contractors of all types.
The roller features tandem 36-inch wide drums and a forward drum mounted eccentric. Asphalt contractors will appreciate the 35-gallon water tank, which is among the highest in its class. Additionally, the high curb clearance and reduced frame overhang ensure greater productivity when compacting against walls or obstructions.
Service managers and technicians will appreciate the maintenance-free articulation joint and eccentric assembly. All key service items are readily accessed in order to minimize down time. The Honda GX630 v-twin engine provides reliable starting and long run time with a 9.5 gallon fuel tank.