Neal Manufacturing Upgrades DA-350 Sealcoating Machine to Increase Productivity and Ease of Use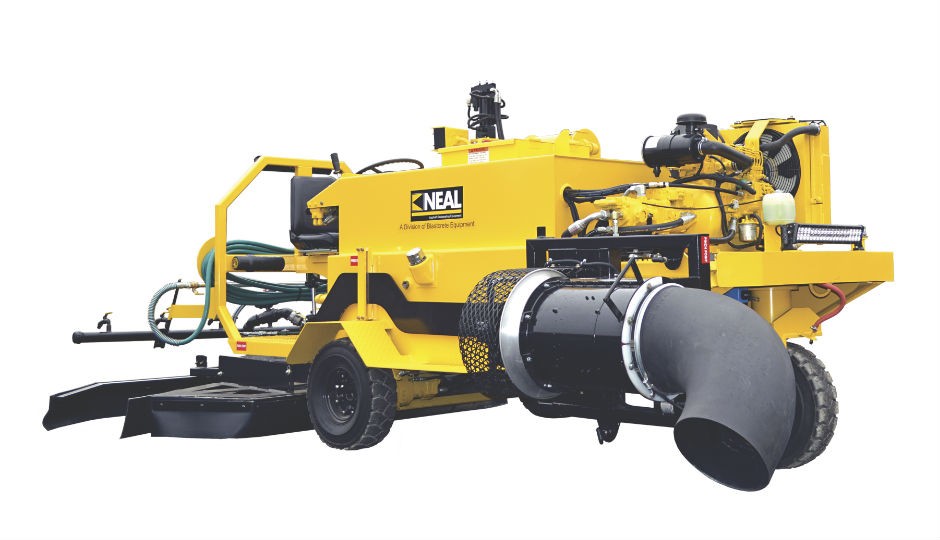 Neal Manufacturing, an industry pioneer in asphalt sealcoating equipment, upgraded its DA-350 Dual Applicator sealcoating machine to enhance productivity and ease of use. The three-wheeled, self-propelled unit has a 350-gallon tank and allows contractors to apply sealcoat with squeegee and spray systems.
Neal added a high-powered blower to the front of the DA-350 to help users quickly and easily prepare the surface for sealcoat application. The blower produces more than 6,000 cfm, triple the output of a typical walk-behind blower, for fast and thorough dirt and debris clearing. The blower unit rotates, allowing contractors to lock it in an upright position for transportation or move it down for operation. The nozzle on the blower articulates 360 degrees enabling the contractor to blow debris in the optimum direction. Once the blower cleans the area, a 40-gallon fogger system cools surfaces prior to application to ensure optimal adhesion.
The DA-350's new 8-foot, diamond-shaped squeegee assembly features internal baffles that help distribute material more evenly than squeegee assemblies without baffles. After applying a coat with the squeegee, contractors can apply a second coat with the DA-350's six-nozzle spray bar. A spray coat also can be applied with a 6-foot hand wand connected to 75 feet of reinforced hose for added versatility on the jobsite.
Neal's dual application system gives contractors the ability to fill the voids in the surface of the asphalt with the squeegee. They can then apply a second coat with the spray bar for a smooth finish that completely seals the asphalt and lasts as much as 40 percent longer than a job done with two spray coats.
To improve ease of use and operator efficiency, Neal redesigned the DA-350's control panel so users can access all electrical controls from one centralized location. Since many sealcoating jobs are done at night when there is less traffic, Neal added LED working lights to the front and back of the machine so contractors can easily work into the darkness.
The DA-350's electrically-controlled super sand pump, or ESSP, is a hydraulic-powered piston pump that comes standard on all Neal machines. It can transfer as much as 100 gallons of material per minute, which is the fastest transfer rate on the market and as much as 50 percent faster than diaphragm pumps.
The ESSP produces enough pressure to pump modified sealers and emulsions, as well as mixes with as much as 10 pounds of sand per gallon, the ratio required for most state and federal projects. The high-efficiency pump only operates when pressure drops during spraying, resulting in reduced fuel consumption and engine wear.
Neal designs its ESSP systems for longevity and low maintenance. The pumps feature leather cups that provide excellent internal sealing and durability for increased productivity and reduced downtime. Unlike diaphragm pumps that require daily flushing to prevent the rubber seals from degrading, users only need to flush the hydraulic piston pump once a year, if winterizing, which can save as much as 30 minutes per day in production time. The leather seals withstand as much as 200,000 gallons of mix, depending on the sand load.
The DA-350 comes standard with a 38-horsepower Kohler gasoline engine, or an optional 35-horsepower Kubota diesel engine. Both models feature an unloading valve on the auxiliary pump for easy engine starting. Additionally, the unit's power steering provides excellent maneuverability and the tightest turning radius in the industry. The DA-350 features infinitely variable speed control from 0-11mph in forward and reverse, and its hydrostatic rear-wheel drive gives precise control on grades and uneven surfaces.
To ensure its customers know how to properly operate and maintain the machines, Neal offers free training seminars at its Anniston, Alabama, location.