Atlas Copco Featured 1-Megawatt QAC 1200 Generator at POWER-GEN International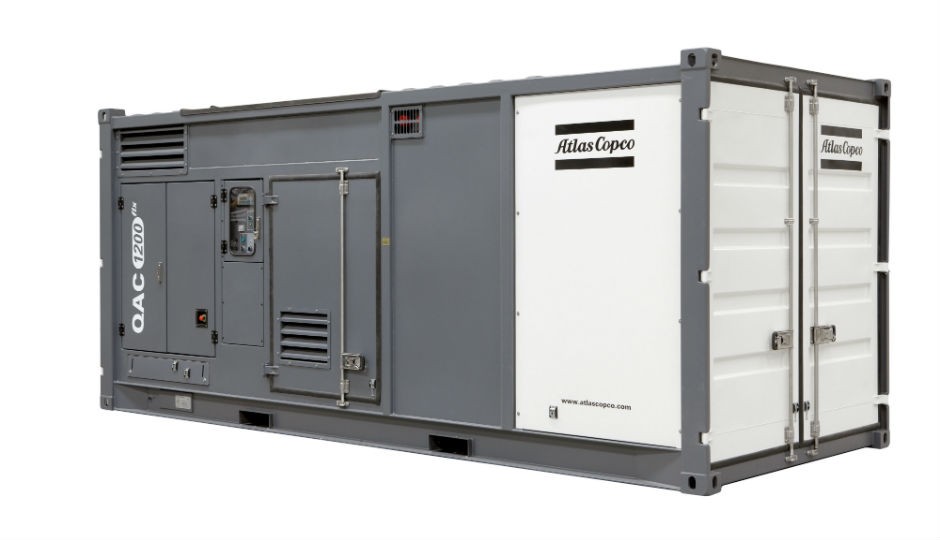 Atlas Copco QAC 1200 generators produce 1 megawatt of predictable power. They can be used in prime power or critical standby applications in a multitude of industries, including construction, mining, and oil and gas. Operators also can parallel as many as 16 QAC 1200 generators for greater dependability, versatility and reduced fuel consumption.
Atlas Copco featured the QAC 1200 at booth 1800 during the 2014 POWER-GEN International tradeshow December 8-11 in Orlando, Florida.
The generators feature plug-and-play technology that allows users to connect the units with a single cable. Once this is done, they can connect the power cables to a common bus, set the desired parameters, and the generators automatically synchronize. This enables the units to automatically power down or up, depending on the load requirement, which helps save fuel.
In addition to reduced fuel consumption, paralleled QAC 1200s provide more dependable power than multi-megawatt generators. Relying on a single multi-megawatt generator for primary power puts the worksite and budget at risk if an outage occurs. By comparison, running multiple, 1-megawatt generators that are paralleled keeps power supplied to tools and machinery even if one unit goes offline.
Atlas Copco engineers the QAC 1200 into custom, 20-foot enclosures with the same footprint and form factor as ISO containers. This ensures the units are structurally sound and can accommodate features that would otherwise weaken the integrity of standard shipping containers such as larger openings for maintenance access and control panels on the outside. The enclosure also helps minimize engine noise to 75 dBA at 23 feet, which makes it an ideal generator for sound-sensitive applications near hospitals, museums and schools.
The International Convention for Safe Containers (CSC) also approves the 20-foot enclosures, which means cargo ships, railroad cars and semi-trailers can readily transport the QAC 1200 generators.
The QAC 1200 features a Cummins QST30G5 diesel engine that is EPA Tier 2 certified and provides 1158 kVA/926 kW prime power rating (60 Hz). With this fuel-efficient, electronically governed engine, the integrated fuel tank provides a minimum run time of eight hours.
Engine fluids are plumbed to the edge of the skid on the QAC 1200 to eliminate the hassle of maneuvering pans into the interior space. The standard, spillage-free base frame is sized to contain 110 percent of all the machine's fluids and fuel, which safeguards the site and protects the environment.
Atlas Copco also offers optional cold-weather packages for the QAC 1200 generators. They include alternator heaters, coolant heaters and battery chargers to ensure dependable starts and operations in cold climates.
Company info
Related products