PLM Introduces the Newest Custom Carrier Solution – The PANTHER T12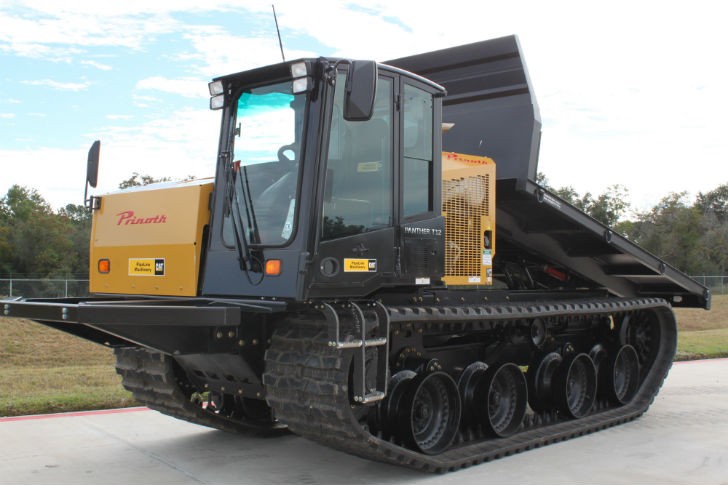 PipeLine Machinery International (PLM) has announced a new custom equipment solution to the pipeline industry - PANTHER T12 by PRINOTH. As the latest innovation in a low ground pressure carrier crawler, the PANTHER T12 operates in off-road and various weather conditions offering exceptional performance and versatility.
The PANTHER T12 combines the proven capabilities of the Cat C7.1 ACERT engine model with the industry expertise in off-road vehicles by PRINOTH.
Providing the highest payload in its class, the PANTHER T12 has a capacity of 25,000 lb. (11 340 kg). The PANTHER T12 has a ground pressure of 5.95 psi, fully loaded, making difficult types of terrain accessible. Together with a strong pull ratio, these features allow this carrier to access the pipeline jobsite even if the terrain is difficult and without damage to the environment.
A dynamic track tension offers proper tension while working at all times. Large wheels allow for more contact with the track, more stability, longer track life and prevent freezing of the undercarriage in harsh winter temperatures. The PANTHER T12 keeps more track on the ground with a unique tread pattern - numerous blocks provide bite while the angular cuts and "zig-zag" tread provide side hill grip.
Built with a truck-inspired widened chassis to accept virtually all implements without modifications PLM currently makes the PANTHER T12 available with a tilting flat bed. Other features include:
A cab that is designed for operator safety and comfort.
The user friendly steering wheel control allows for a safe grip while moving through rough terrain and maintaining optimal precision and control.
A Roll Over Protection Structure (ROPS) that is built within the cab frame for operator protection.