Komatsu America Corp. Launches the New D155AX-8 Crawler Dozer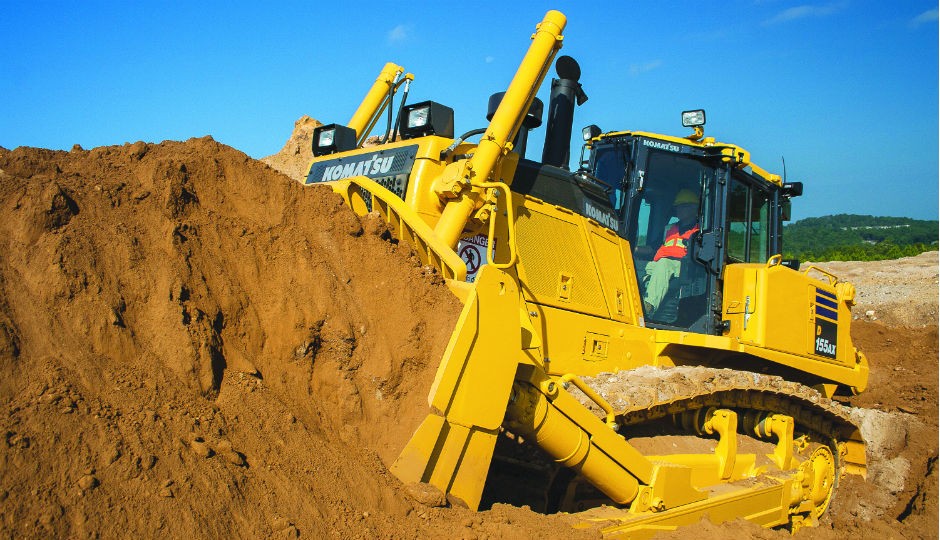 Komatsu America Corp. has announced the D155AX-8 crawler dozer with an operating weight of 89,300 pounds. Rated at 354 horsepower net, the D155AX-8 is powered by a Komatsu SAA6D140E-7 engine, which is EPA Tier 4 Final emissions certified. Komatsu's Tier 4 Final engines were built on a solid foundation that started in 1996 with the introduction of Komatsu's first Tier 1 engines. The resulting benefit today is a Tier 4 Final engine that is productive, dependable and efficient. This new crawler dozer leverages Komatsu's leadership in technology and innovation by delivering a more environmentally friendly engine that provides high levels of performance while reducing fuel consumption and operating costs.
The D155AX-8 is equipped with the latest KOMTRAX technology. Data such as fuel levels, DEF levels, operating hours, location, cautions and maintenance alerts are relayed to the web application for analysis. A new Operator Identification System reports key operating information for multiple operators and a new Auto Idle Shutdown function helps reduce idle time as well as operating costs.
Komatsu has built upon its strengths using a proven Tier 4 Interim foundation to integrate Selective Catalyst Reduction (SCR) that further reduces NOx emissions using Diesel Exhaust Fluid (DEF). The Komatsu EPA Tier 4 Final engine uses an advanced electronic control system to manage the air flow rate, fuel injection, combustion parameters, and after treatment functions to optimize performance, reduce emissions, and provide advanced diagnostic capability. The result is lower fuel consumption with no loss of performance. Komatsu continues to use a Komatsu Variable Geometry Turbocharger (KVGT) and Exhaust Gas Recirculation (EGR) valve with hydraulic actuator for more precise temperature and air management control as well as longer component life.
To ensure product reliability and durability in demanding conditions, Komatsu developed the entire system, including the control software, which is critical to the effective operation of the aftertreatment system. This control system is also integrated into the machine's on-board diagnostics systems and KOMTRAX, Komatsu's standard telematics system.
Innovative SIGMADOZER blade for unsurpassed productivity
The D155AX-8 is equipped with a 12.3 yd³ SIGMADOZER blade which gives the machine a high blade capacity. The SIGMADOZER dramatically improves dozing performance and increases productivity up to 15% over a conventional Semi-U blade. The blade features a frontal design concept adopted for digging and rolling material at the center of the blade. The unique blade shape increases soil holding capacity. Digging resistance is reduced for a smoother flow of material so larger amounts of soil can be dozed with less power.
For example, think of a conventional Semi-U blade as a flat shovel and the SIGMADOZER as a spade nose shovel. A spade nose shovel is easier to push through the soil and requires less energy. The SIGMADOZER works similarly to a spade nose shovel.
Automatic transmission significantly improves fuel economy
The D155AX-8 has an automatic gearshift transmission and lock-up torque converter that greatly reduces fuel consumption and provides exceptional power train efficiency. The lockup torque converter automatically transfers engine power directly to the transmission, decreasing fuel consumption by up to 10 percent while machine power is maintained.