Two Models Of Weiler Remixing Transfer Vehicles Each Offer Distinct Benefits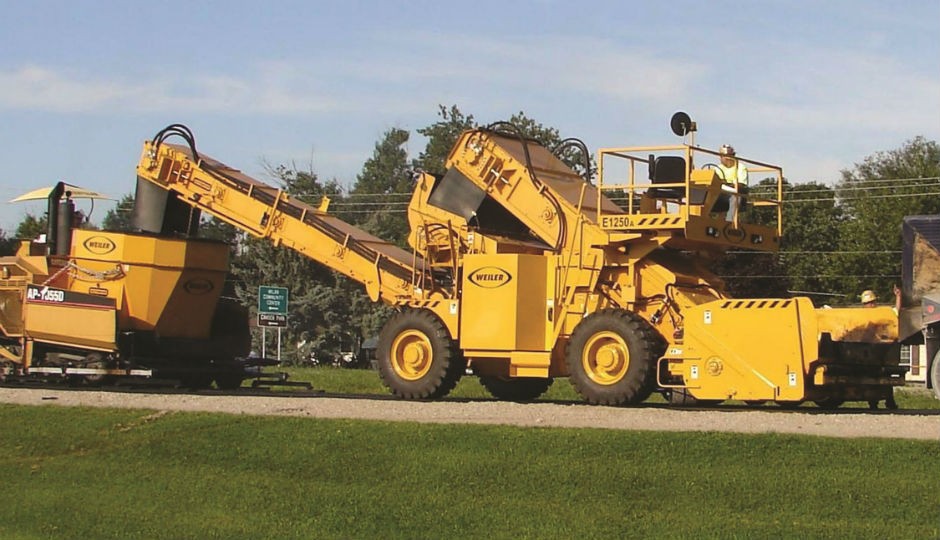 For efficient paving operations with the highest mat quality, Weiler offers two models of remixing transfer vehicles (RTV), the E1250A and E2850 (shown on the cover). Weiler RTVs provide non-contact, non-stop and offset paving while providing reduced particulate and thermal segregation for high-output jobs.
The 25-ton (22.7-tonne) storage capacity of the E2850 allows the crew to overcome trucking disruptions while continuing non-stop paving operations. It is designed for non-stop, non-contact paving where storage is a necessity.
"The E2850 enables continuous paving operations, which reduces the likelihood of uneven surfaces," said Bill Hood, Weiler's vice-president of sales and marketing. "The contact between paver and end-dump trucks is eliminated, helping smoothness, while the remixing process reduces both particulate and thermal segregation."
The largest-in-class front hopper and 22-inch (559mm) augers quickly and consistently deliver mix to the storage hopper, while triple-pitch, hard-faced augers fight segrega- tion by remixing asphalt at the base of the storage hopper. The rear discharge conveyor processes up to 600 tons (544 metric tons) per hour, and will shift up to 55 degrees in either direction for offset paving.
A 300-hp (224kW) Cat C9 Engine with ACERT Technology powers the E2850 to working speeds up to 194 feet (59 metres) per minute. The three-speed, hydrostatic drive powers Cat planetaries, providing smooth on-the-fly shifting and dual-speed control. Joystick and variable speed potentiometers allow the operator to match the paving train speed.
High-torque, direct-drive hydraulic motors power the elevators and conveyor with maximum efficiencies while eliminating costly gearboxes. A loop-flush return system provides thermal relief to extend seal life.
The operating platform hydraulically extends up to 12 inches (305 mm) in either direction, providing the operator with better visibility, and the main control station pivots from left to right for dual-side operation. An electronic controller provides instant feedback on system settings, ground speed and engine status. Optional rear steer on the E2850 reduces the inside turning radius to a tight 14 feet (4.27 m) for maneuvering on tight jobsites and easier loading onto transport trailers.
Designed around easy clean-out, the E2850 offers multiple hydraulic access points to make quick work of daily cleaning and maintenance. The front hopper, storage hopper and rear conveyor are equipped with hydraulic, retractable doors for easy access to daily service points. The storage hopper doors provide ground level access for daily clean-out and service of the remixing augers. A 32-gallon (121-litre) independent wash-down tank with 50-foot (15.2m) hose and reel are conveniently located at the front of the machine.
The Weiler E1250A Remixing Transfer Vehicle (shown above) is among the paving industry's best values when considering cost-per-ton of asphalt placed, Weiler reports. The shortened plant-to-mat timeframe and lower costs of operation allow the contractor to increase competitiveness and confidence when it's time to submit bids. The E1250A processes 600 tons (544 metric tons) per hour, matching the highest output of any material transfer vehicle on the market, and does so with less wear components and in a smaller package.
The E1250A sets a standard for reducing particulate and thermal segregation with its patented twin interlaced auger system, which provides a true remix of all material. With one less conveyor than competitive models, the E1250A requires fewer material drops, helping retain consistent heat in the asphalt. A split elevator foot shaft enables smooth, consistent material flow as well as simplified maintenance. The rear conveyor processes 600 tons (544 metric tons) per hour and also swings 55 degrees in either direction for offset paving.
The E1250A features a 20-foot 3-inch (6.2m) turning radius for increased maneuverability around the jobsite. The company says that the E1250A, being 50,000 pounds (22,680 kg) lighter than competitive models, creates less stress on base materials and distributes the weight along the entire length of the machine.
The E2850 and E1250A and complete line of Weiler products are sold and serviced exclusively at Cat dealerships across North America. Weiler machines use Cat components when applicable and dealers stock Weiler components to keep paving crews working.