Allied Adds AR Series 70D to Hammer Line for Skid Steers, Mini-Excavators and Loader Backhoes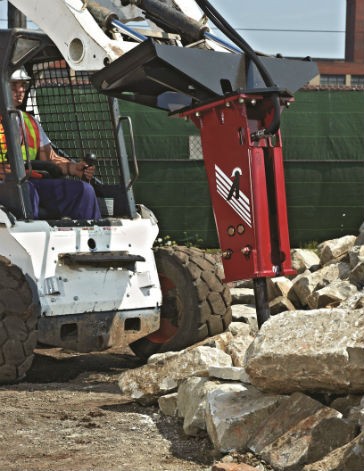 Allied Construction Products has added a new model, the 70D, to their AR Series of hydraulic impact hammers. Demolition of concrete structures, building foundations and pavement are just some of the applications for the 70D.
The AR Series of hammers offers reliable performance, minimum maintenance and an attractive price, which makes them a perfect match for the rental industry and contractors breaking rock and demolishing concrete.
The 70D is a 748-pound hammer that mounts quickly on a skid steer. It also adapts easily to a mini-excavator or loader backhoe with new mounting bracket configurations and two-position brackets for increased productivity. The 70D requires 10 to 24 gpm at 1,600 to 1,890 psi and it breaks at a rate of 500 to 1,200 blows per minute. Allied Construction Products states that the new 70D hammer provides:
A proven design that delivers an optimum combination of weight, power and performance;
Easy start with minimal down pressure, which allows the hammer to be operated in any position;
Steady blow energy for maximum breaking power with every blow;
Straight hydraulic hose fittings for reliable "leak-free" connections;
Tool bushings which have a slip-fit for easy removal, reducing service time;
Conversion brackets allow the hammer to be moved from a loader backhoe to a skid steer in minutes;
Direct mounting to loader backhoes and skid steers, reduce time and cost;
A wide assortment of demolition and specialty tools to match specific jobs;
Supply pressure dampening for internal protection and smoother operation;
A bolt-on, top-mounting bracket that makes it easy to attach the breaker to excavators that have quick-couplers.
Allied AR Series hammers are available in 12 models: 205, 180D, 175, 165, 140B, 130B, 120B, 110C, 95B, 85B, 75B and 70D.
With a variety of accessories, rental customers and contractors can put the hammers to work on job sites in more ways than ever before. Allied offers over 2,500 customized hydraulic kits available for mounting the AR Series on miniexcavators, loader backhoes and skid steers.