Komatsu America Forestry Division Launches New C144 Harvesting Head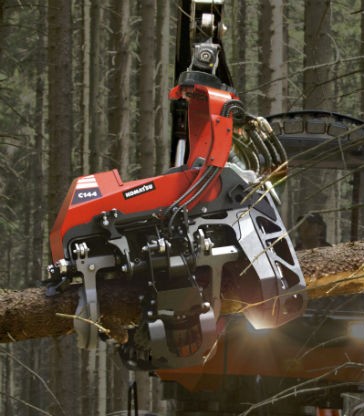 Komatsu America Corp. has announced the new high capacity C144 Harvesting Head, the second model in its new C-series family of "carry-style" heads (the C93 was the first). Weighing 3,086 lbs. (1,400 kg), the high performance C144 has a recommended DBH working range of 8" (200 mm) to 20" (500 mm) diameter and has a 28" (710 mm) maximum cutting diameter. It is available installed on Komatsu 931.1 and 941.1 Harvesters, and can be installed on other carriers as a loose head.
The C144 features a new robust frame design for improved durability and reliability, and a new swing damping system for more responsive head control. The 40º rearward tilt angle provides fast feeding performance and reduces head frame stress when harvesting and/or reaching on downhill slopes. The feed system is completely new utilizing four hydraulic motors and four driven rollers. The standard single belly roller is now supplemented by an additional feed roller located in the feed path. The unique addition of the second roller ensures more contact with the stem, creating feeding force of up to 6,654 lbf (29.6 kN). With a maximum feed speed up to 16.4 ft/sec (5 m/sec), operators can handle more difficult trees and limbs. The feed roller hydraulic circuit has a differential function to ensure that stem feeding will continue even if one feed roller does not have a full grip on the stem.
The C144 is equipped with two upper and two lower hydraulically controlled delimbing knives, and a fixed vertical top knife. The upper knives are specially designed to handle trees with tough limbs, such as lodgepole pine. The leading right upper knife has a ramped cutting edge to assist in cutting larger branches.
The new Constant Cut saw control system features a 32.5" (825 mm) saw bar that includes a new 19cc saw motor with an integrated valve to deliver precise control of saw hydraulic flow and pressure. This continuous management of flow and pressure allows the chain speed to be maintained at a constant 130 ft/sec (40 m/sec) throughout the entire cutting cycle. This Constant Cut system, along with automatic chain tensioning and automatic EcoOiler chain oiling results in:
Faster cutting performance
Reduced fuel consumption
Reduced chance of splitting and/or cracking
Reduced saw maintenance
Longer saw motor life.
Optional stump treatment and color marking systems are available to meet specific customer needs.
Komatsu's new MaxiXplorer™ 3.1 Head Control System is standard and provides a state-of-the art, flexible, and user-friendly control and monitoring system. When installed on a Komatsu harvester, it is a complete system for machine control, head control, crosscutting and administration. Machine productivity is optimized by controlling everything from the head to the crane, cab leveling, transmission, and ladders.
All grease servicing points, bar oil and color marking tank fill points are accessible from one position when the head is parked on the ground. Electrical circuits are identified by numerical tags, and all solenoids have LED indicator lights identifying when power is at the solenoid.
C144 Key Specification Summary:
Weight: From 3,086 lbs (1,400 kg)
Driven Feed Rollers & Motors: 4 & 4 (2 x780 cc & 2 x 400 cc)
Saw Bar Length & Chain Speed: 32.5" (825 mm) & 130 ft/sec (40 m/sec)
Saw Motor: 19 cc
Recommended DBH Working Range: 8" (200 mm) to 20" (500 mm) diameter
Maximum Cutting Diameter: 28" (710 mm)
Tip-to-tip Delimbing Diameter: 20.7" (525 mm)
Delimbing Knives: 5 (1 top, 2 upper, 2 lower)
Feed Force: 6,654 lbf (29.6 kN)
Feed Speed: 0 - 16.4 ft/sec (0 - 5 m/sec)
Rearward Tilt Link Angle: 40º
Note: All comparisons and claims of improved performance made herein are made with respect to the prior Komatsu model unless otherwise specifically stated.
Company info
Related products