High-Tech Machine Control Lets Operators "See Underground"
by Matt Pomfret, Andrea Dellamore and Vincent Jue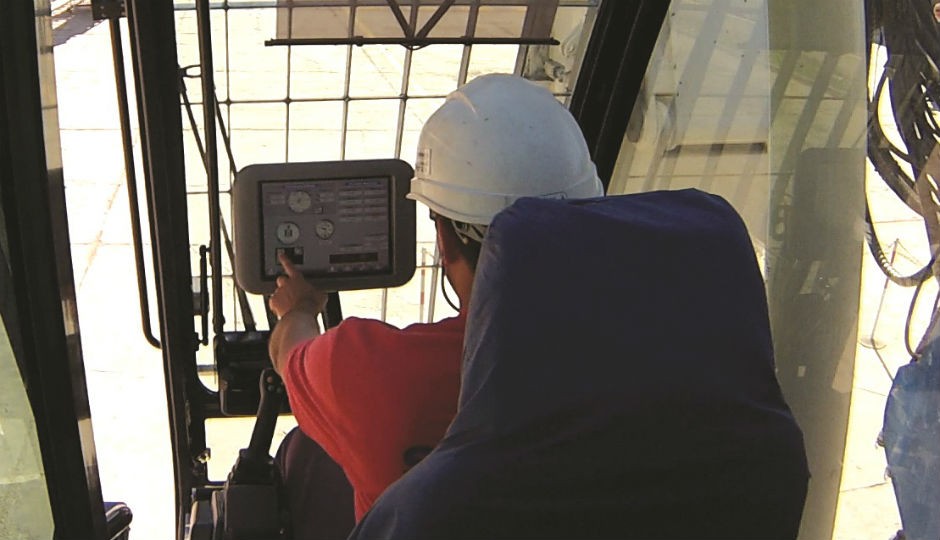 One of the inherent challenges of drilling operations is the inability to see what's being built at depth. Construction happens out-of-sight, underground, in soil or rock conditions that are only partially known.
The Drilling Mate System (DMS) provides a solution which enables the operator to "see underground" as it monitors in real time the operation and performance of the machine, providing the rig operator with active and precise instrument control.
Soilmec's DMS is a high-tech, fully-integrated, interactive tool whose interface is located in the rig cabin. Data from an array of sensors, safety devices, drilling parameters and the diesel engine are transmitted to the cab and displayed on an easy-to-use touchscreen interface, allowing rig operators and jobsite personnel to monitor and accurately control the machine in real time. Operators use it to monitor the overall operation of the machine, control drilling conditions, record alarms, perform troubleshooting and plan maintenance.
Available on all new Soilmec machines, standard DMS monitors and records various machine production parameters and drilling data, including depth, inclination, rotary speeds and crowd pressure, to assist in drilling a quality pile. Older Soilmec equipment can be retrofit to add DMS onboard.
Soilmec has also developed specialized DMS software packages to optimize the performance of a wide range of technologies, including: large diameter piles, micropiles, continuous flight auger piles, cased secant piles, diaphragm walls, hydromill excavation, jet grouting/tie-back anchors and soil mixing.
Using this extensive data on machine operations helps improve the quality of the work. Accurate drill parameters can be set and monitored so that construction quality consistently meets project specifications.
Maintenance alerts reduce downtime
The reduction of equipment downtime is fundamental to maintaining productivity. DMS triggers alarm signals that alert an operator when maintenance is needed, facilitating rapid troubleshooting. For cased secant pile construction, DMS displays alarms for coolant level, low foot pressure, rotary gearbox lubrication, rotary head filter clog, mast inclinometer x-axis or y-axis failure, hydraulic oil filter clog, diesel engine parameters and fuel level.
DMS shows the operator the component that triggered the alarm and identifies the severity of the alarm. By pushing a button, DMS also displays the history of the alarm so the operator can see if that component has been failing frequently. It helps create safer work conditions by ensuring that the equipment works properly, while also saving time and money.
Proper maintenance also improves the performance and longevity of equipment. Jobsite personnel can easily plan routine maintenance through a DMS touchscreen that records the machine's scheduled maintenance operations. In addition, the Spare Parts Online Center provides faster ordering of replacement parts.
DMS also tracks the usage of raw materials and fuel consumption, key data that can be used to improve project planning.
Improving operations and reporting
All of this critical data on machine operations, alarms, materials consumption and maintenance can be streamed via cellular networks to a computer, so that jobsite managers in a field trailer or at their home office can monitor and process it. The DMS data is also easily stored on a memory card or USB flash drive. DMS software allows managers to create customizable jobsite, operational and accounting reports – or the data can simply be exported as tables.
DMS data can be analyzed offline and displayed as graphs for easy interpretation. Managers can show piles or panels in order of completion status to check work progress. Data can be graphed as a function of time or depth. For instance, managers can process and plot critical parameters – pile profile, concrete pressure and concrete flow – as a function of depth so they can analyze the quality of their construction. These graphs can identify potential construction problems like voids in the concrete, while providing proof of construction quality.
In addition, detailed offline analysis of DMS data can help jobsite managers bid more accurately on future jobs because they have precisely tracked the time and resources needed to complete similar past jobs.
Getting live help anytime
Soilmec has operated a DMS control centre at its headquarters in Cesena, Italy, for years. Soilmec North America customers now have a new resource: two new Soilmec DMS control centres are open in North America to provide 24/7 assistance to contractors and operators using DMS-equipped rigs. The centres are located in the offices of Soilmec North America agents – American Equipment and Fabricating in Providence, Rhode Island, and Champion Equipment Sales in Paramount, California – and are staffed with trained personnel.
DMS data can be transmitted via radio, GSM/GPRS, Wi- Fi or satellite to one of these control centres, where Soilmec experts can help troubleshoot in real time. These Soilmec service managers have a direct connection to the machine via the web and they can see live what the operator sees on the DMS onboard display. They can visualize all operation and machine parameters, perform certain operations and detect and interpret alarm signals. So the Soilmec service managers no longer have to hop on a plane to visit a jobsite in order to troubleshoot. Instead, they can fix most problems remotely, saving a lot of time and money.
From a remote location, DMS experts can help operators configure their DMS and provide them with detailed technical training on the machine, which makes the operators more productive. The DMS control centre is also alerted when a maintenance alarm is triggered; Soilmec service managers can quickly call jobsites to help prevent larger problems from developing. This rapid troubleshooting assistance reduces maintenance times.
DMS is the solution to many of the challenges of a drilling operation. By providing real-time, critical information to rig operators and jobsite managers, DMS acts as a guardian angel. It helps watch over and protect both the rig operators and equipment.
Matt Pomfret is service manager at American Equipment & Fabricating Corp in Providence, RI, where he is responsible for technical support and DMS troubleshooting for the Eastern U.S.
Andrea Dellamore is DMS and instrumentation business unit manager at Soilmec S.p.A Trevi Group in Cesena, Italy, where he is responsible for technical and marketing development of DMS onboard instrumentation and software.
Vincent Jue, vice president at Soilmec North America in Paramount, CA, is responsible for customer support for the Western U.S. and Canada.