KOBELCO Debut's Tier IV Final SK350LC-9E Excavator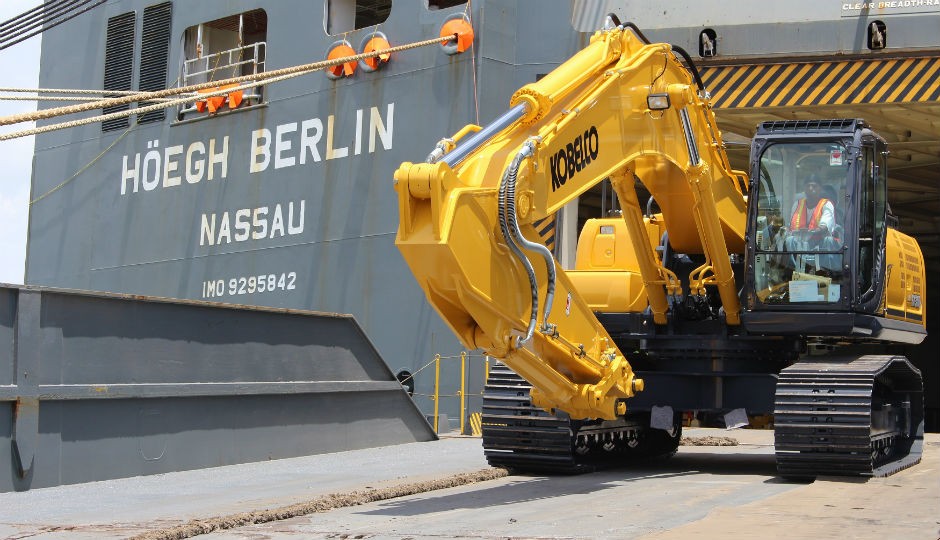 KOBELCO Construction Machinery has introduce its Tier IV Final SK350LC-9E model to the North American market. KOBELCO's SK350 is among the company's largest crawler excavator models and is well-equipped to provide operators with superior power and efficiency, while meeting the latest Tier IV Final emissions standards. The SK350 is set to deliver significant operational cost savings thanks to better fuel economy, greater efficiency and reduced service intervals.
KOBELCO's robust 82,200 lb SK350 is powered by a 270 hp, Tier IV Final HINO engine allowing the machine to tackle a wide-range of heavy-duty applications with ease, while remaining highly fuel efficient. This model incorporates both Selective Catalytic Reduction (SCR) and self-cleaning Diesel Particulate Filter (DPF) systems to provide the lowest possible operation costs. This dual system minimizes Diesel Exhaust Fluid (DEF) consumption when compared to SCR only systems. KOBELCO's Tier IV Final solution delivers as much as a 10% reduction in fuel consumption as compared to a Tier III machine, a tremendous benefit which KOBELCO achieved by studying and refining its hydraulic system performance in real jobsite conditions.
Superior efficiency on the SK350 came as a result of an extensive evaluation of the hydraulic and control systems with a focus on reducing parasitic losses, while maintaining peak productivity. Hydraulic system improvements as a result of this evaluation include reduction of power loss due to hydraulic restrictions, fine matching of pump performance to actual job conditions and the ability to operate at maximum efficiency when heavy-duty work is not required.
In addition to power and fuel economy, the SK350 boasts impressive digging capabilities. With a digging force of 50,600 lbs., a digging depth of 24'10", a suggested 0.875 – 2.75 cubic yard bucket range and a swing speed of 10.0 rpm, this crawler excavator ensures quick cycle times to keep productivity levels on point regardless of the application.
KOBELCO's SK350 showcases the company's proprietary intelligent control system, ensuring smooth engagement and disengagement across all machine functions. Heavy lift mode can be enabled when extra lift capacity is needed, while power boost gives operators 10% more power for additional digging capability with no time limit. The SK350 also comes standard with KOBELCO's exclusive independent travel feature. This popular function allows the excavator to travel and lift simultaneously without experiencing a loss of power or speed, making it both versatile and safe to operate across a wide variety of applications. In many instances, this KOBELCO exclusive feature eliminates the need of contractors to supplement their fleet with other types of carriers.
To deliver supreme productivity, the SK350 is equipped with KOBELCO's KOMEX machine operation management system, which allows owners access to crucial machine data including location, operating hours, fuel consumption and maintenance status. Operators and fleet managers along with KOBELCO dealers and service personnel can easily view all vital equipment information to more effectively plan jobs and schedule regular service intervals.
Company info
Related products