VMAC Announces Low Flow Hydraulic Compressor
High pressure capacity provides power for trucks with low hydraulic flow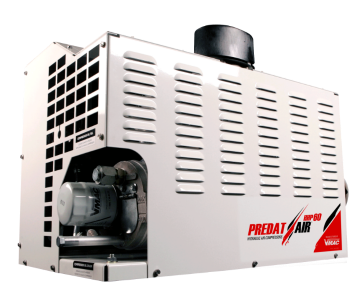 VMAC has announce a new addition to its line of hydraulic air compressors. This system, called the PREDATAIR HHP60, delivers high capacity at low hydraulic flow, enabling performance on trucks that were previously limited by their hydraulic pump capacity.
This system was designed with the 2011 and later models Ford 6.7 4x4 Super Duty in mind, providing end-users with more choice in larger capacity air compressors. However, the compressor also fits other truck bodies. It provides the same reliable, high performance VMAC clients have come to know and love of the PREDATAIR60, and with its extreme weather controls such as soft-start, standby mode, over-temp shut-off, and integrated hydraulic/compressor oil cooler, the PREDATAIR protects the hydraulic system and the air compressor system. It also fits in the same compact, lightweight package, freeing up hauling capacity and bed space. In fact, the PREDATAIR HHP60 is about half the size and weight of its direct competitors.
"The limiting hydraulic pump arrangement of the Ford 4x4 Super Duty meant users had very little choice when buying an air compressor with higher capacity, so we knew we needed to solve that problem," said Dan Hutchinson, Sales and Marketing Manager. "Thanks to its performance, the PREDATAIR line of hydraulic compressors is very popular. We had so many requests to make that performance available on more trucks, it was clear the time had come for this system."
The development of this system represents VMAC's ongoing dedication to the philosophy of continuous improvement and commitment to providing the best performance to end-users. With the ever-increasing diversity in truck bodies and constantly growing number of applications for air use, it is important the air compressor suits end-user needs perfectly.