100% Efficient Electric Flanged Immersion Heaters Simplify Maintenance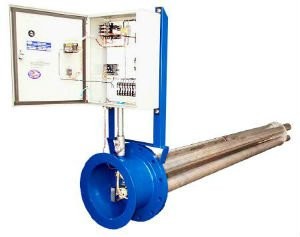 Process Heating Company offers Flanged Immersion Heaters, which can be built into any tank, large vat or reservoir ranging from 100 to 1 million gallons to provide precise, controlled heat that prevents coking or damaging of temperature-sensitive material. The flange-mounted heater is unique in the industry because it features a drywell-style element that resides inside a pipe or tube, allowing the element to be accessed and removed from outside the tank for maintenance, eliminating the need to drain the tank to service the elements.
The Flanged Immersion Heater consists of a standard ANSI 150- or 300-pound flange for mounting, with Process Heating Company's exclusive Lo-Density (low-watt density) heating elements that spread heat out over a large surface. The flanges are available in sizes ranging from 3 inches to 36 inches.
Electric heat offers 100% energy efficiency because all of the energy is used, when compared to the inefficient burning of fossil fuels. Each heating unit is designed for the individual application, and can be customized to meet the needs of the manufacturer or end user for sheath diameter, number of elements, sheath length or applications such as extreme temperatures, increased amps or specialty metals. Typical materials that benefit from precise, electric, low-watt density heating include asphalt, light and heavy fuel oils, diesel, bio-diesel, glycerin, lube oils, hydraulic fluids, resins/epoxies, animal fats, molasses and other sensitive materials.
Flanged Immersion Heaters can function using pre-existing control panels or can be paired with UL-listed controls, which offer easy-to-use complete automation of temperature regulation. The main indicating temperature control regulates the product temperature, and includes a high-limit control for safety. The main disconnect and individually fused heat circuits provide overcurrent protection. All components are mounted and prewired in a NEMA Type 4 enclosure. Custom control panels are also available, including SCRs and those that call for computer-based logic circuitry.
Flanged Immersion Heaters can be made from mild steel or various grades of stainless steel, and customized depending on the application. The sheath wall thickness ranges up to .300 inch for durability and corrosion resistance. The heating units are suitable for a kilowatt rating of up to 1,000 kW; voltages up to 600 VAC, in single or 3-phase; and watt densities of up to 20 watts per square inch and less than 10 being standard. Immersion heaters are available in immersion lengths of up to 40 feet. Terminal closures come standard with moisture resistance, and are customizable to also be explosion resistant. Process Heating Company stands behind its equipment, offering an industry-exclusive five-year element replacement guarantee.