Roadtec SX-8e Soil Stabilizer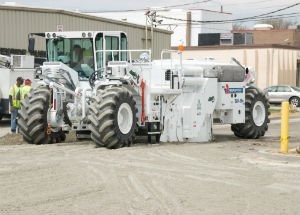 Roadtec, Inc. has introduced the SX-8e stabilizer-reclaimer. This 755 hp reclaimer-stabilizer comes with a list of features that highlight the machine's performance, durability, and accessibility. SX-8e is a versatile full-sized stabilizer-reclaimer that is capable of performing in various applications. True to the Roadtec way, the machine remains extremely operator-friendly with simplified controls.
Roadtec uses premium, high-strength steel to fabricate all the new stabilizer-reclaimer frames. This high-grade steel provides more than twice the yield strength of standard A 36 steel. This is why Roadtec machines are stronger without carrying excessive weight. The premium steel provides the necessary strength at reasonable plate thicknesses. The machine is designed with excellent weight balance to perform in the cut without being extremely heavy to transport or consuming excessive fuel that adds extra weight.
The SX-8e is powered by a Caterpillar® C18 Tier 4i engine. SX-8 machines sold into countries that do not have Tier 4i emission standards will have the model name "SX-8ex". Other than engine emission standard, both machine models will share the same list of features.
The machine's on-demand cooling uses a variable speed fan that takes air in from the cleanest possible area. This feature reduces the amount of dust and debris entering the engine compartment.
The fully enclosed operator station slides 18" past the right side of the machine for excellent visibility. The seat and console swivel 90° for additional operator visibility. The machine comes standard with a color control screen and back-up camera.
The 4-wheel drive SX-8e can be steered in four different modes. The suspension is hydraulically controlled allowing the depth of cut to be selected via push button.
The SX-8e offers cut depths of up to 20" (508mm) and 120" (3.05m) wide (depending on the cutter drum). The variable geometry cutter housing allows for optimum control of material sizing and flow. Both the front and rear door of the cutter housing are hydraulically adjustable.
The belt driven cutter drum can be turned at 4 different speeds. A 4-speed cutter transmission allows the cutter speed to be changed without a drop in production.
The engine hood hydraulically raises to 90° making the engine compartment readily accessible. A standard power pack can be used to raise and lower the engine hood, as well as the front and rear moldboards. Convenient radiator cleanout and slide-out battery rack also contribute to the machine's accessibility.
An optional automated water/emulsion system is available for the SX-8e. The system has a 500 gpm (1,890 Lpm) capacity, and fully automatic controls to modulate flow based on cut depth, machine speed, and open nozzles.
Company info
Related products