Roadtec Presented SB-2500e at CONEXPO/CONAGG 2014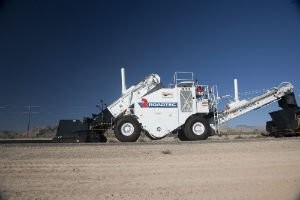 The premier asphalt remixing device, the Roadtec Shuttle Buggy®, is being offered in an upgraded version. Along with upgraded wear components, the SB-2500e now includes multiple features that increase the machine's clean-out accessibility. Full width clean out doors are on the C-1 conveyor. Bombay style clean out doors are also included on the machine's C-2 conveyor.
The mix storage functionality of the SB-2500e has been improved with the option of bindicators, devices which show the paving crew exactly how much mix remains in the hopper.
The SB-2500e Shuttle Buggy is powered by a Cummins® QSL 9 300 HP (224 kW) @ 1,900 RPM Tier 4 interim diesel engine and will be available in a Tier 3 version for certain international markets (sold as SB-2500ex).
Company info
Related products