GreyStone's New Portable Dewatering Screen Keeps Moisture As Low As 7-12%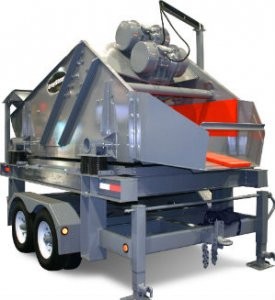 The Portable Aggre-Dry Dewatering Screen from Columbus-based GreyStone, Inc., features a patented flume, allowing an operation to retain all of the fines discharged from the dewatering screw. The addition of the flume offers a flexible and cost-efficient solution for controlling, recycling and saving water and fines while producing sand and gravel products with a moisture content as low as 7 to 12 percent, along with a caked, dry sand product that an inclined dewatering screw alone cannot not achieve. Wheel-mounted for easy transportation, this 5-ft x 10-ft dewatering screen is ready to connect to a washing screw for on-demand production.
The Portable Aggre-Dry has several unique features, including a 0.25-mm screen opening, which reduces the amount of material that can fall through the screen. The feed from the screw allows the material to build to a bed depth of up to 14 inches on the screen, squeezing additional moisture from the sand as the vibratory motors move it along the length of the screen deck, further reducing moisture content. There are screen panels on the sides of the Portable Aggre-Dry, which allow for even more water to be removed from the material.
GreyStone prides itself on providing the industry with the most complete line of sand washing, classifying and dewatering equipment for keeping material in spec. Whenever possible, GreyStone builds its equipment with components that can be replaced locally, so when maintenance and service are necessary, producers are up and running quickly. From individual components to complete operations, GreyStone offers customization of its product line to meet the specific operational needs of each customer.
Company info
Related products