Lincoln Electric Brings a Complete Orbital TIG Solution to Weld Various Pipe and Tube Sizes and Applications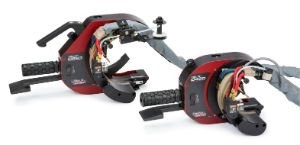 The Lincoln Electric Company is bringing welding operators in refineries, power generation and pressure vessels a single system solution for welding various pipe and tube sizes with the new HELIX® C450 and C663 weld heads. With these orbital TIG (gas tungsten arc welding) clamp-on weld heads, operators not only can weld large diameters with no upper limit; they also can weld smaller tubes and pipes with outside diameters ranging from 1.315 to 6.63 inches. The new weld heads are designed for use with the company's APEX® 2100 orbital welding system, which includes all the welding components required for orbital TIG welding.
"We pride ourselves in the ability to offer customers a single and complete orbital welding solution," said Carlos Richmond, Lincoln Electric's product manager for mechanized automation. "With the release of these new weld heads, we are providing customers everything needed for superior orbital TIG welding, no matter what size pipe or tubing."
The HELIX C series orbital TIG, clamp-on weld heads are engineered to perform consistent and repeatable welds. The HELIX C450 weld head is designed for pipes and tubes with outside diameters of 1.315 to 4.5 inches, while the HELIX C663 weld head is designed for 1.9 to 6.63 inch diameters. They are rugged, compact and easy to install and position on pipes and tubes. Most importantly, the HELIX C series weld heads have a water-cooled motor housing and torch to ensure extended performance and greater cycle ratings in heavy-duty, high-heat applications.
The new, clamp-on heads are designed for use with the company's new HELIX WF20S and WF20B orbital wire feeders. The new feeders use a precision wire-feed motor to ensure calibrated and consistent wire-feed speed through the length of the weld. The intuitive HELIX design allows the operator to change wire spools in under a minute, without tools.
Released in 2013, Lincoln Electric's APEX 2100 orbital welding system is engineered for diverse applications in demanding environments and restricted spaces. With this system, operators can retrieve specific weld programs for each application to maintain quality control procedures and gather weld information for future statistical reporting. The APEX 2100, paired with the HELIX T55, HELIX C663 or HELIX C450, is ideal for applications in nuclear energy, thermal energy, petroleum processing and aerospace.
Along with the HELIX T55 weld head, the company recently released the new Blue Max® orbital TIG wire for high-alloy welding. The ultra-clean wire surface, precision-layer winding and tight control tolerances help deliver consistent weld quality.
With the APEX 2100 orbital welding system, a number of orbital TIG wires (including the new Blue Max orbital TIG alloy) and now the HELIX C series clamp-on weld heads, Lincoln Electric is fully equipped with an array of solutions to meet the needs for orbital TIG welding operators. For more information about these solutions, contact Lincoln Electric at 888.935.3878