HYDRA-MAGNET latest all-in-one attachment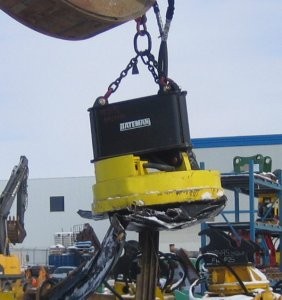 Bateman's new HYDRA-MAGNET is a combination self-contained auxiliary powered magnet, and brushless, maintenance-free Hydraulic Generator. The HYDRA-MAGNET is engineered to easily and efficiently add magnetic function to excavators, and eliminate the need to install generators or cables on multiple machines. This makes it an excellent and flexible tool for fleet use with various machines, and an ideal tool for lower-duty cycle and occasional contractor use.
To operate, users simply attach the "Hydra-Mag" to any excavator set up with an auxiliary circuit, and operate by use of a joystick control or button. Once the circuit is turned on and flow is at the generator, the magnet will charge and begin attracting material. When the circuit is turned off, material will fall as the generator slows.
Company info
5 Winstar Rd.
Oro-Medonte, ON
CA, L0L 2L0

Read more